Tony Muhammad, poster child for the International Association of Scientologists (IAS) — continues to preach hard and loud about the horrors of the White Man.  Apparently he is unaware that the IAS is heavily white.  He also hammers away at Jews and the media. Of course, there are a lot of ethnic "Jews" in scientology, some who even loudly proclaim that they ARE Jewish AND a scientologist. But he won't get any argument about the media – Hubbard hated the media and thus scientologists hate the media.
But you have to wonder, where is Fast Eddie and his STAAD League? Why are they not taking a stand against this bigotry and hatred from one of their own?
Our friend John Tyler keeps track of all things Nation of Islam and he has sent in an update.
On February 3, 2019, Scientology Freedom Medal Winner Nation of Islam Minister Tony Muhammad gave a one hour and fifty minute lecture at Muhammad Mosque No. 27 in Los Angeles, CA, entitled "They Fear The Rise Of A Black Messiah."
Unfortunately, this lecture is no longer available on Facebook but I excerpted it below.
In this lecture Tony Muhammad:
(1) Renews the Nation of Islam's call for Black people to be given a separate territory comprised of five states. He states, "Really, all of America belongs to us. All of it"
(2) Explains the Bible is "the graveyard you've been buried in," the Quran is too "alive" for a dead people (i.e., Black people in their current state), and Black people must be resurrected from the Bible's "dead scriptures"
(3) Says, "I'm trying to get my White friends ready for Black rule" and
(4) "The serpent is the press, is the media, is Jewish control. It is lying, lie, lie, lie."
The video excerpt (which cannot be shared as YouTube considers its content unacceptable) is here: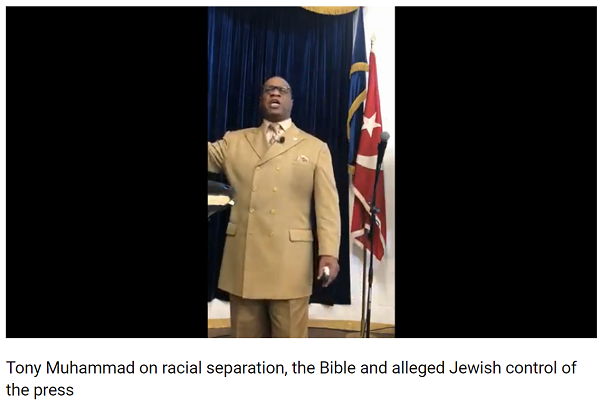 Then on February 24, Tony Muhammad gave a two hour and twenty-four minute lecture at the same mosque entitled "Farrakhan Walking in the Footsteps of Jesus."  In this lecture he claims:
(1) "That group (i.e., the Jewish people) have been slowly taken back to their bestiality through the Talmud"
(2) "Them White people living up in the hills of Malibu, they're temporary." "We're going to send you back where you came from. We're going to send you back to Europe"
(3) Renews the call for a separate state or territory for Black people, as well as twenty to twenty-five years of "alimony" – financial support. He says, "Don't tell us you won't do it. You did it for Israel"
(4) "In the Book of Revelation it comes at the end of the rule of the White race. The whole Bible is talking about the rule of Caucasian people"
(5) "The press and the media is like a dragon. In the media you've got NBC, ABC, CBS, CNN, Fox all controlled by Jews"
(6) "The Jews gave over $400 million to politicians to influence them to vote in the way of Israel and in the way of Jewish advantage;" and
(7) Discusses the role the Jews in Hollywood allegedly played in the demise of the Black people. He argues the Jews in Hollywood deliberately presented disgraceful images of Blacks for world consumption. He concludes, "Jews are anti-Black."
Here is the video excerpt: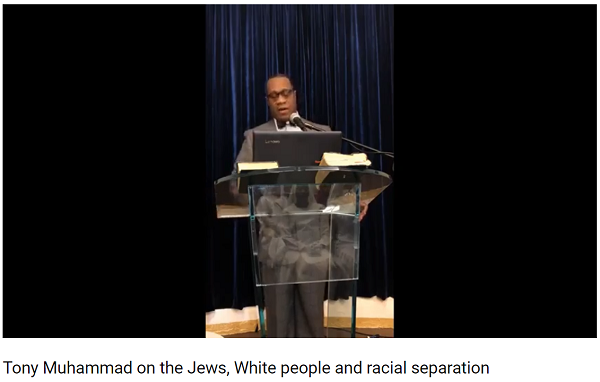 And on March 17, 2019, three days after he was a special guest at an IAS dinner at the Inglewood scientology "ideal org," he gave another two hour lecture entitled "The Resurrection of the Dead."
Here he preaches:
(1) "I know, I know you have been looking for a good White man. I've been searching among them too. I might have found a half of one. But in truth, I'm not going to waste my time looking for no good cracker. I'm trying to find a good brother"
(2) "When White people buried us in Christianity – buried you"
(3) Using the "N "word, jokes about going to Beverly Hills with "homies" to gang bang and
(4) "The whole earth belongs to people of color. And the White man is a johnny come lately. And we have to send him back to Europe."
The video excerpt: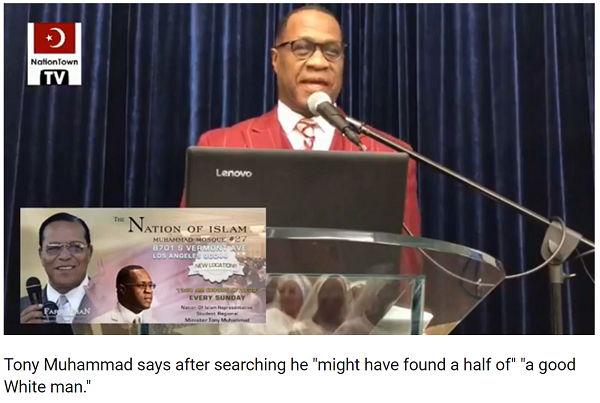 I wonder what Tony Muhammad's white friends in the Church of Scientology will think when they learn that among all of them Tony Muhammad "might have found a half" of a good man.
Tony Muhammad's call for a separate state or territory for Black people was not a surprise to anyone who, unlike, the Church of Scientology, bothered to do their homework. At approximately 6:30 in the below interview with Taj Longino published on September 7, 2017, two months before Tony Muhammad was awarded the Scientology Freedom Medal, Tony Muhammad refers to White people as "crackers" and calls for Black people to be given five states, including Georgia, Mississippi, Alabama, and Texas . (At approximately 12:00, he also says interracial dating is "unnatural.")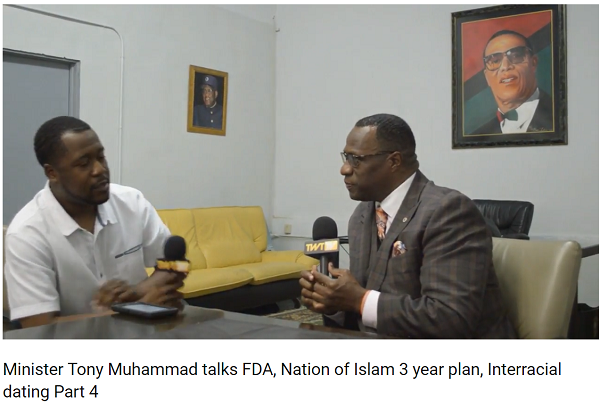 How does scientology not disassociate from this man and what the Nation of Islam stands for? Or at least get him to stop making these sort of public statements? I guess it's the price to pay of trying to take advantage of a group that is not entirely enclosed within their bubble.