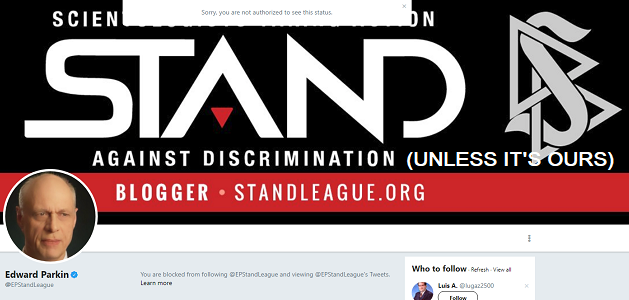 The huge, international scientology organization is at the mercy of an "unemployed blogger."
STAND League flounders as they are pressured to "handle" him.
These are the real (if unspoken) headlines for STAND League's latest attempted smear on Tony Ortega. To be fair, I will give them a point for using a decent photo of him. Not their usual style. But that is the only thing worth noting that is not a terrible lie.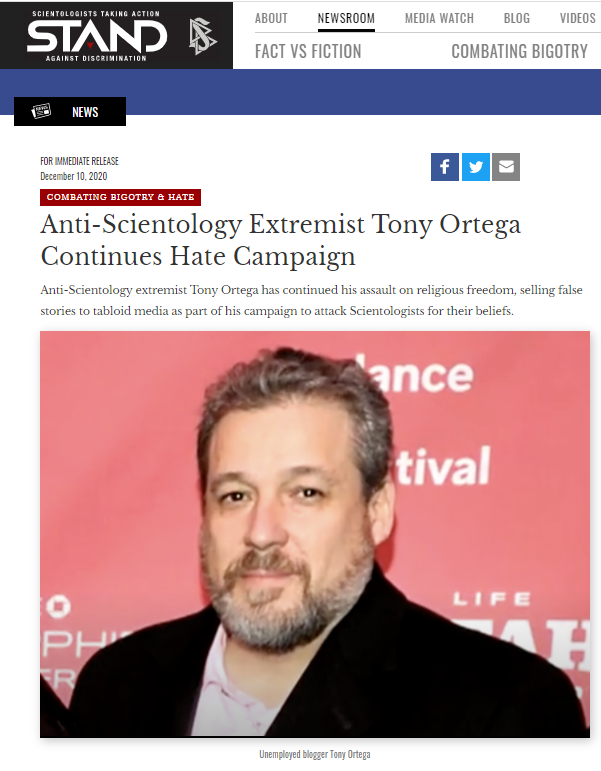 Obviously, Fast Eddie and his minions have gotten some heat from David Miscavige to "get effective" shutting down Tony Ortega. They have failed for more than a decade, and it seems the best they can do is continue to flail about rehashing their old smears as if doing the same thing over and over will get them a different result.
But this particular slight begs two questions:
1. If in fact he has no job then the objective Hubbard describes for enemies of scientology has been achieved — "to cost them their job." Hubbard says this is what is supposed to shut down enemies. Was he wrong? Why then are they  still bothered with someone who has no job?
And…
2. Isn't this what Ed Parkin is? He is definitely not "employed."  Scientology goes to great lengths to make clear all Sea Org and staff are only "volunteers" to avoid labor laws. So therefore Eddie is an unemployed, volunteer Fair Game blogger.
And as for the rest of the tired old nonsense about attacking their religious beliefs and the Back Page Tony foolishness. It's pathetic. The Back Page stuff is typical scientology A = A (to use their terminology) long since debunked. But that doesn't matter, they just keep on saying it as if it hasn't been disproven. This is a propaganda technique often employed and unfortunately it works too often. As for attacking religious beliefs — if your belief is that people should be destroyed, bankrupted, families broken up etc etc, then those beliefs deserve to be exposed ("attacked" in scientology propaganda speak).
And of course, because they have failed to shut him down, they also resort to the really cheap shot of smearing his wife. They have tried to cause her to lose her job — without success. Because there is no basis for their complaints or allegations. But the self-proclaimed champions of free speech and religious freedom don't believe anyone has the right to express any opinion that doesn't meet their approval. If she even said any of the things they claim she said… Of course there are NO specifics and no evidence presented.
It is pretty funny to read these pieces — they start out by quoting THEMSELVES!
"Like the anti-Semitic 'blood libel,' Tony Ortega peddles anti-Scientology tropes fabricated to generate hate against members of a minority religion," said National STAND Director Bari Berger. "To understand the true motivations Ortega attempts to conceal, one need only study any white supremacist manifesto. Ortega feels that those different from him, and those who subscribe to a set of beliefs not his own, do not deserve rights and freedoms. He would prefer they cease to exist, hence his continuous efforts to intimidate Scientologists and spread anti-Scientology hate."
Funny, Bari Berger is describing how scientology operates: "those different from him, and those who subscribe to a set of beliefs not his own, do not deserve rights and freedoms. He would prefer they cease to exist," — in fact, this is scientology POLICY.
The hate campaign Ortega has championed has resulted in more than 600 threats and acts of violence against individual Scientologists, including one murder.
Hold on — this is what they say about Leah and me? In their other smear propaganda WE are responsible for this (they need to increase the number soon, because the number has been 600 for some time now…) so who is it really?
Tony Ortega's wife has a documented history of religious intolerance and discrimination against minorities.
Documented? The best they can come up with is that someone they claim is her protested the violence against those who drew images of Muhammad, protested the repression of women in Arab countries and disagrees with the activities of ultra-orthodox Judaism (if you have not watched the Netflix series Unorthodox, I recommend it). Scientology is taking the position that protesting abuses conducted in the name of religion is "hate speech" and "bigotry." I wonder why?
Once again, the desperation inside the bubble is apparent.