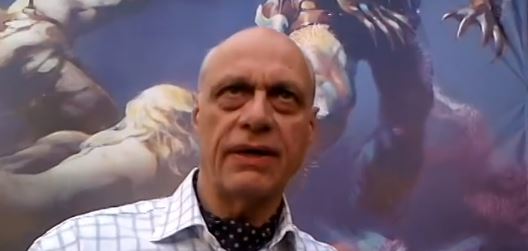 The sockpuppet who heads the "Stand League", Ed Parkin, is the poster child for scientology crazy.
Fast Eddie has been a low-level gofor in the Office of Special Affairs for many years. As I recall, he started out as Heber's administrative assistant sometime in the late 80's or early 90's and has remained a drone since then.
He is the "face" of the "Stand League" and he has his "own" Twitter account. Though I have never commented on any of his posts, and he tweets at me often, he has me blocked. So do the Stand League.
And like the Stand League and every other OSA twitter account (including my daughter @TarynTeutsch) they have tens of thousands of paid-for bot "followers" with a string of numbers and letters as their "name," dozens of "Deepaks" and "Gonzo Baloney" type handles and "people" who don't even speak english.
Each post Fast Eddie does gets 2 likes from the same 2 people. Apparently their budget does not include paying for people to click like on his posts.
But the status of his twitter account is not the real measure of the man.
What he says on it is.  And that is where he demonstrates the most unlikable attributes of any good scientology drone. They have an uncanny ability to revel in their own superiority, condemning others for doing EXACTLY what they are doing themselves.
As avowed and avid supporters of the Nation of Islam — lauding Tony Muhammad with an IAS Freedom Medal, harboring Rizza Islam in their "Youth for Human Rights" program and generally walking arm-in-arm with the NOI — they should be decrying the rabid and rampant anti-semitism of the Nation.
But, while remaining conspicuously silent about the NOI hate speech, they jump on the bandwagon every chance they get preaching holier-than-thou to "condemn" anti-Semitism. Here is the latest example.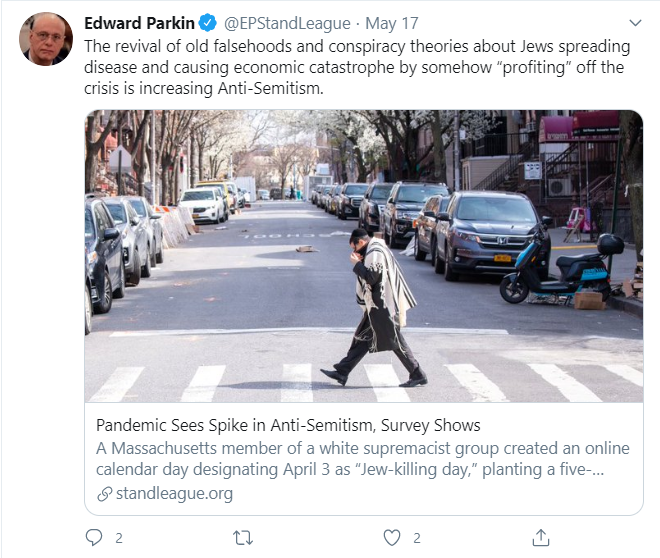 Hey Fast Eddie, if this is so terrible, why aren't you tweeting about Tony Muhammad and the NOI fostering anti-Semitism?
It's like official scientology statements about a lot of things. They profess to stand up for Human Rights while violating them left, right and center. They are against "human trafficking" while engaging in it with Sea Org members all day, every day. They complain about the immorality of society and how they are the only hope for man, while ripping off the elderly with forged credit cards and bank loans. They claim to be champions of gay rights while making gays "unqualified" for executive positions and proclaiming them "dangerous" and that their "aberrations" can be "erased with auditing." They claim to be the largest relief force on earth but are virtually invisible unless a camera crew is on the scene. The examples are almost endless.
If scientology spokespeople are saying it, it probably means they are doing just the opposite.
Remember the infamous words of Tommy Davis: "There is no such thing as disconnection."