There is a lot of mention of "St Hill Size" in scientology. It is one of the great catchphrases that motivates the sheeple "We are going St Hill Size," heard almost as often as "We are Clearing the planet" (but not as often as "will that be cash or check?").
But what exactly does St Hill Size mean and why is it important?
St Hill is the name of the estate in Sussex, England that L. Ron Hubbard bought in 1959 and converted into the international headquarters of scientology. There were "difficulties" in the US and he decided the UK was a safer operating climate.  That lasted for a few years until he was refused a visa extension. He abandoned the UK and tried to set up in Rhodesia as the reincarnation of Cecil Rhodes which didn't go well. He then took to sea to be "fabian" in international waters away from the "control" of any "wog" government. That was the birth of the Sea Organization.
During the early 60's, St Hill was the place to be for scientologists. Hubbard delivered frequent lectures to the adoring audiences who traveled from around the world to study at the feet of the master. You could learn to be a scientology auditor there — supervised in person by Ron and his wife Mary Sue (who at that time was often publicly lauded by him — she would later be erased from scientology history after she took the fall for her husband and went to federal prison).
In scientology terms, St Hill in the 60's was the bustling center of the universe.
In 1982, Hubbard announced a "Birthday Game" to encourage scientology organizations to get more people into scientology, move them up the Bridge and make money — this is what he wanted from "his staff" around the world as a Birthday present.
His birthday wishes were issued to all scientology staff in LRH ED 339R (The full issue is at the end of this post, the key points are extracted below).
This was the first mention of "achieving the size of old St Hill."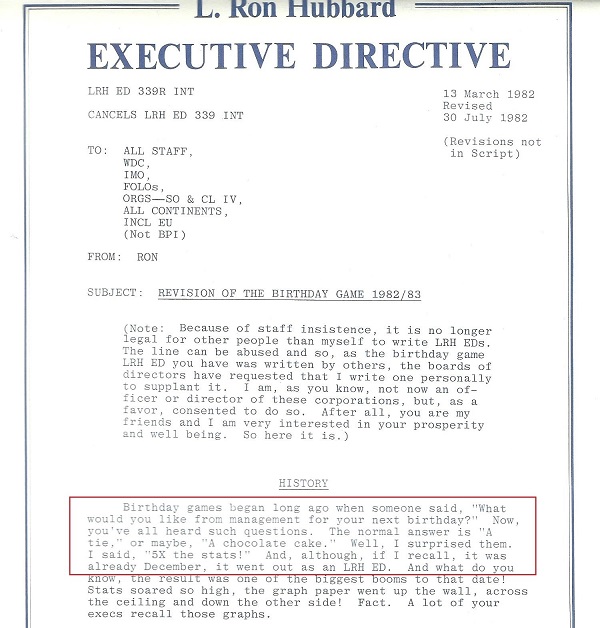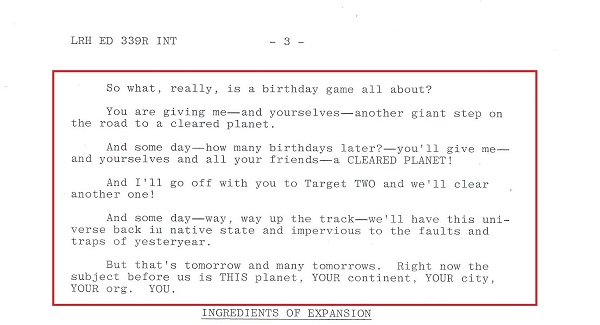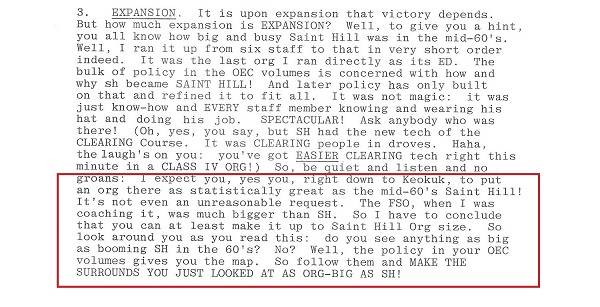 This new game also promised something else: the "Universe Corps." This was a special incentive for those orgs that DID expand to St Hill size. The staff would be able to "go OT" in their local org rather than having to travel to one of the 5 "Advanced Orgs" around the world.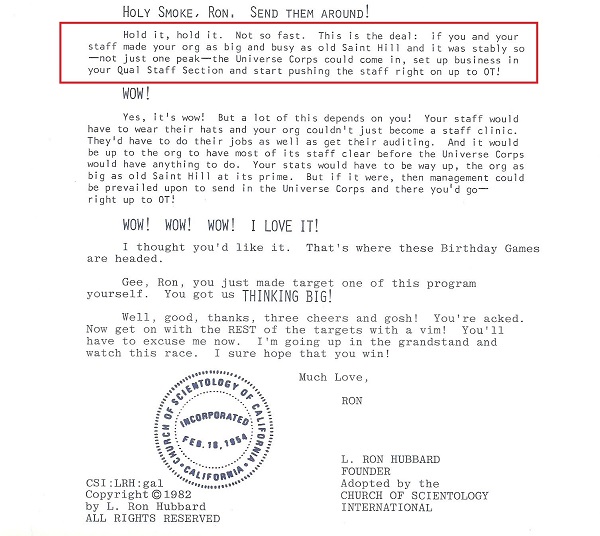 Hubbard told management this was the answer to all their prayers. Orgs would now magically expand and all would be well. Ron had solved it once again.
Much to Hubbard's horror, his new Birthday Game and offering easy OT levels all over the world did NOT result in rising stats.
So 8 months later he issued an addition (339R-1) informing staff that if they were NOT achieving St Hill size the problem was they were OFF PURPOSE. And that achieving St Hill size was the way to get paid enough to live on.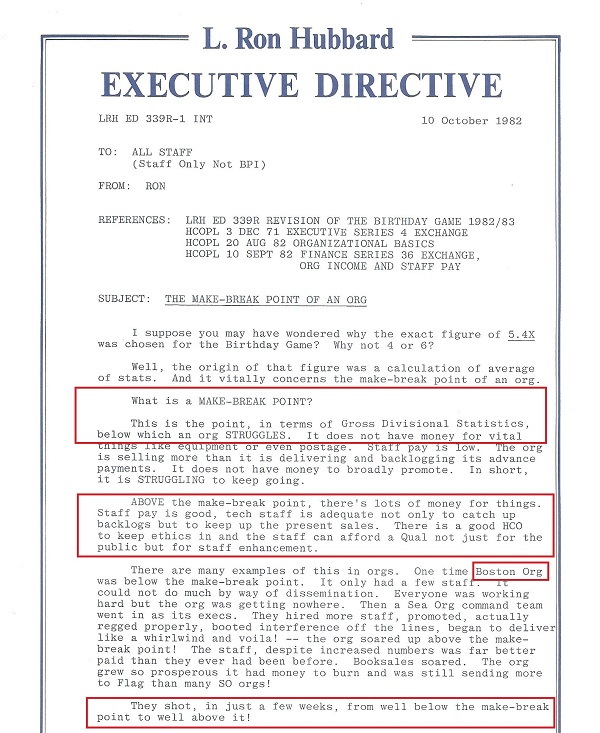 He made a big deal about Boston having achieved the size of "Old St Hill" due to a Sea Org "Command Team."
In fact this was a group of SO Execs who had been responsible for the infamous "postulate check era" who had been brought to the Apollo and called before a Committee of Evidence issued by Hubbard to "determine if they were Suppressive Persons"… Of course, the Comm Ev found that they WERE (nobody in their right mind would dare find otherwise when the clearcut message of the issue was that Hubbard already KNEW they were SPs). Hubbard "commuted" their sentence and gave them a choice.  Be declared or be to sent to a failing org where they were to get 1% of the city's population names in Central Files and send more money to support the "Flagship" than the Advanced Orgs were doing.
These guys knew how to stat push. Boston Org DID grow.
Of course, as soon as they left it began its long decline into oblivion.
But this didn't deter Hubbard from making the point to the staff around the world that they should be able to go St Hill size in "just a few weeks" like the SP's in Boston had done (he didn't let on that they were SP's of course)…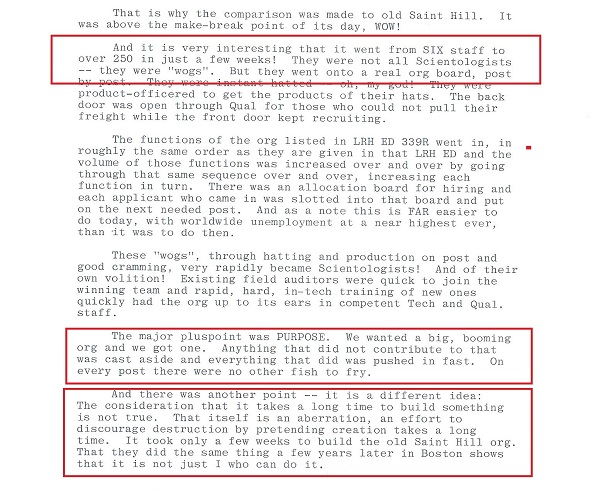 He made it clear, any org NOT going St Hill size in a few weeks was simply "off-purpose."
There is much more to what happened during this time — 1982 and 1983 were watershed years in the history of scientology management. It was also, not uncoincidentally, the beginning of the "False Purpose Rundown" that Hubbard developed to find the hidden evil purposes preventing staff from expanding their orgs. I was one of the people Hubbard proclaimed was overwhelmed with "Ev Purps" because I was WDC Sea Org and AOLA had falsely reported their stats… I was sent to the RPF (no reprieve to a small and failing org for me).
But back to St Hill Size.
Hubbard did not explain what the requirements were for St Hill Size other than "5.4X your stats."  That was of course completely arbitrary — one org might be delivering 10 hours of auditing and another 100 — obviously 54 hours of auditing per week was NOT St. Hill Size and who knew if 540 was? He also claimed there were "250 staff" (including "wogs") at St Hill so even if the org did 5.4X their stats and they didnt have 250 staff, was that good enough?  Nobody knew.
Hubbard sent instructions to Guillaume Lesevre, the subsequently vanished and unreplaced "Executive Director Int", to put together a project to dig out the information on how big was old St Hill. Jean-Michel Wargniez, the "Int Mgmnt PR" was put in charge. They dug up all the old files from St Hill and determined there were 200 students at St Hill at its peak. From that other figures were extrapolated. How many hours of auditing were delivered a week. How much income. And how many staff.
This was all compiled into a booklet "How Big Was Old St Hill" that laid out these "quotas." The booklet was sent out to all staff so they knew what they were trying to achieve to get their OT levels that Ron had promised them.
These numbers were adjusted over time, but as I recall the basic statistics were 200 staff, 200 full time students in the Academy, $100,000 income per week and $100,000 VSD (Value of Services Delivered).
It took until 1988, but the first two orgs to achieve St Hill size were announced at the March 13 event — AOLA and Orange County Org. This was recorded in What is Scientology?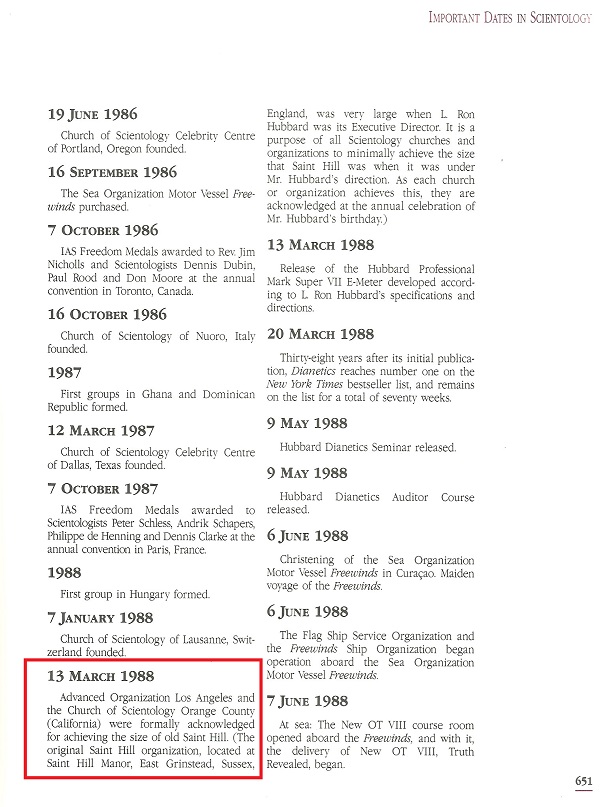 Subsequently there were a couple of orgs announced as St Hill size each year during the 90's – Milano, Stuttgart, Munich, AOSHUK, Hamburg, SFO and a few others.
Of course, none of them were ever really St Hill Size. They pushed their stats up to the quotas with all sorts of unusual systems, got their award, and promptly collapsed back to their "non-viable" status. Some of them were even sent "Universe Corps" but they invariably were discovered to be "out tech" and were soon disbanded. The entire program was a horrible failure.
But in those halcyon years of St Hill Size Orgs came the release of OT VIII and the launch of the Freewinds. Miscavige told those who had completed OT VIII that in order for it to be "safe enough" to release OT IX and X ALL orgs had to be "St Hill Size." Like Hubbard, he thought this would motivate staff and OT VIII's alike to grow their organizations and make more money. Like Hubbard's original "Birthday Game" it failed.
Those who had completed OT VIII became increasingly disenchanted about growing old and dying before the release of OT IX and X as by the late 90's no orgs were being declared "SH Size" (not even fake ones…)
In 2003 (15 years on from the release of OT VIII) Miscavige came up with a new "thing." He told scientologists the reason orgs were NOT going St Hill Size was that they were not "ideal" — he announced this as a huge "why" that he had discovered. All orgs being Ideal then became a stepping stone to all orgs becoming the size of Old St Hill (which in turn is the stepping stone to being able to start clearing their zones and opening more new orgs). Ideal was defined BT Miscavige as having a building larger than 40,000 sq ft that was renovated to his standards that could "perform all the functions of an org", as if the problem was lack of space. The absurdity of this was lost on the sheeple.  They bought into the idea that the problem of empty, failing 6,000 sq ft orgs would magically disappear if they got larger, more empty space. At least they would look more impressive. I have covered the Ideal Org scam in detail in earlier posts.
Despite the Miscavige "Why" for no St Hill size orgs, in spite of numerous "ideal orgs", there are no orgs above the "Make-Break" point. Most cannot pay their staff anything close to a living wage.  All the orgs that have been declared "ideal" are NOT St Hill Size after 15 years. Hubbard said it should take weeks. The lie Miscavige foisted off on the sheeple about "Ideal Orgs" has been disproven time and time again, and yet they go on hoping, continuing to hand over money for the pie-in-the-sky promise that getting a new building will make "St Hill size orgs," which in turn will be able to actually expand and be viable and eventually will be able to make a dent in clearing their community.
And it will result in the release of the non-existent OT IX and X. Thirty years later that very moldy carrot is still being dangled in front of the OT VIIIs and some of them keep plodding on ever hopeful they will finally get a bite at it despite all evidence to the contrary.
The deception is deep.
But the delusion is boundless.
* I took Christie to England in 2010. We visited St Hill, she roamed around with Sam Domingo while I sat in front of the castle. Security eventually figured out who I was and ordered me to leave. See other photos on Marty Rathbun's blog.
FULL TEXT OF LRH ED 339R
FULL TEXT OF LRH ED 339R-1