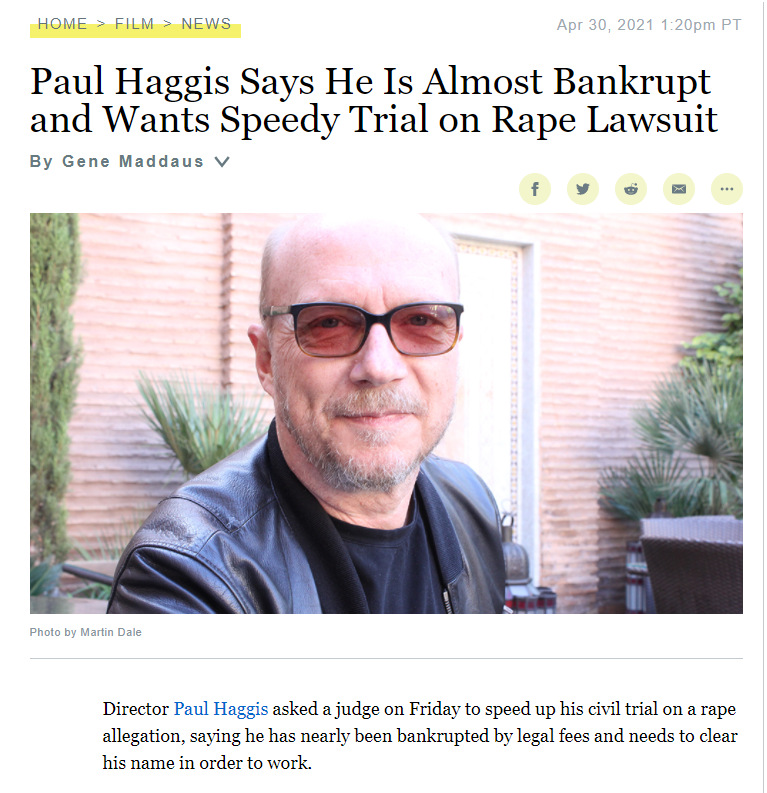 This recent article in Variety makes my blood boil.
While scientology has continued to support and protect Danny Masterson, who has been trying to avoid his day of reckoning in court at all costs, Paul Haggis, who they have accused of being a "rapist" has been trying desperately to get INTO court to clear his name.
Masterson is being criminally prosecuted, in addition to the civil case filed by his victims. Paul Haggis has never been criminally charged — or even investigated. Unlike Masterson's victims, Paul's accuser  did NOT go to law enforcement, Paul did. He asked them to investigate an extortion attempt from the accuser — pay me money or I will go public claiming you sexually assaulted me. The DA said his remedy was in civil court as they could not pursue a case when the shake down was made by a lawyer on behalf of the accuser. He sued. The woman counter-sued.
More than 3 years later his case has progressed little, and Paul, not the woman who accused him, is asking for it to be expedited to trial. Since the accusations were made, gun-shy studios and networks have remained unwilling to be involved with anyone even accused (but not cleared) of inappropriate sexual behavior. Paul's career has been ruined and he is being financially and emotionally drained. Exactly pursuant to Hubbard policy on what you do with enemies. Cost them their jobs. Tie them up in litigation and make it expensive for them. You can read what I had to say about this back in January 2018 Concerning Paul Haggis. I also ask that you read this post, which is a letter from Paul's ex-wife: About Paul Haggis.
While there is no proof that has come out that scientology is behind this assault on Paul's character and livelihood, the fact remains the case has been stalled and Paul has been left in limbo.  Evidence that would exonerate Paul cannot be released publicly because there is a gag order in place at the insistence of the accuser.
If one was looking for an example that has all the hallmarks of a scientology operation, this ticks virtually every box. Hubbard even gives an example of how you go about this sort of thing in one of his directives about destroying enemies. He directs that "a mistress" calls his boss and demands the return of her diamonds… along with other things intended to cause his boss to fire him.
This post describes the technique in detail: Framing Whistleblowers — The Scientology Playbook
I am all too familiar with this sort of tactic.
My daughter, the self-proclaimed champion of women's rights and face of "Justice4Mom" and her scientology handlers have been running a smear campaign to destroy me for years. Ironically, the incident they hang their accusations on, when she and 7 others attacked me concluded when I called law enforcement. But that has not stopped scientology from spinning this into an apparently never-ending campaign of false accusations.
Now, compound this with what you witness in an encounter with two of the victims of Danny Masterson at an event in LA for Denim Day.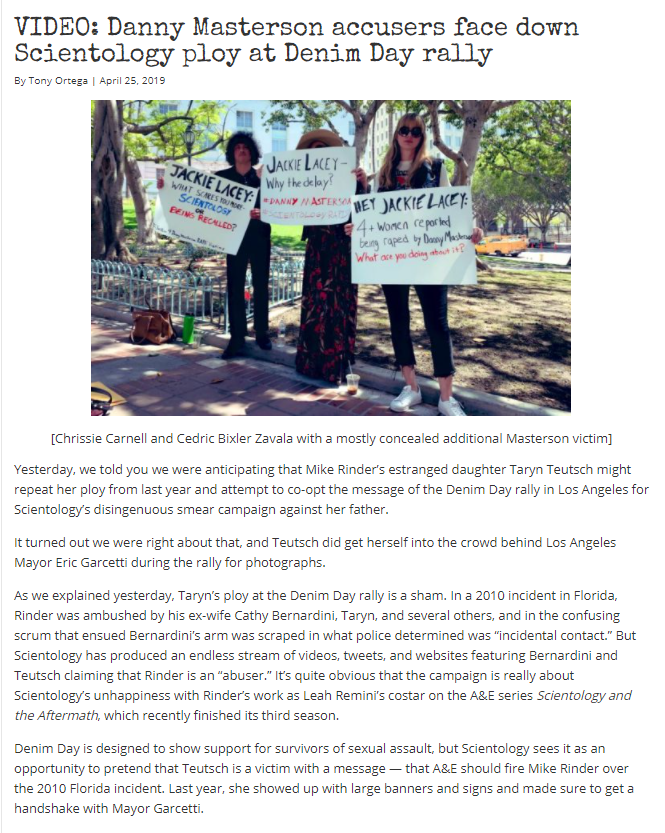 My daughter, the face of "Justice4Mom," is a full-blown OSA Resource. What she is doing is pursuant to specific and detailed directions. She was at the Denim Day event with a Gold film crew (these are all Sea Org members, they don't just jaunt off on "personal business" to "support friends" EVER). They were there trying to get photo ops with people in the women's rights movement to give them some legitimacy.
When the Masterson victims asked Taryn about DJ Donkey Punch she deflected into how her father supports Paul Haggis who is a "rapist."  It was a bizarre thought process:  her father (me) "abused" her by supposedly calling her chubby as a child and I support Paul Haggis who is a rapist. Thus, she is there cozying up for photo ops with real victims of rape and their advocates. She and her sidekick (another Sea Org member from Gold) said they knew all about Paul Haggis because there was a lawsuit and the victim had gone to the police. A complete fabrication. But as for Danny Masterson's victims, standing right in front of them, Taryn "didn't have enough information about this" to comment. And would not answer whether it was acceptable in scientology to report him to the police as these women had (she, like every scientologist knows this is forbidden).
This is one of the more embarrassing interactions you will find with scientology shills caught in the act. They were not prepared for anyone to ask them real questions and catch them in their obvious lies.
To this day, even since the Preliminary Hearing and Masterson being sent to trial on 3 counts of rape, there is no mention on my daughter's website or anywhere else in the scientology online maze of organizations and front groups about justice for Danny Masterson's victims. Not a peep. But they continue to smear Paul Haggis on the basis of a shakedown accusation and keep him from making a living while his case drags on and on. "Justice" is a malleable term in scientology.
Is scientology supporting Danny Masterson despite all the evidence? Is the campaign against Paul Haggis a classic smear similar to what scientology has done to me?
If it walks like a duck and quacks like a duck….