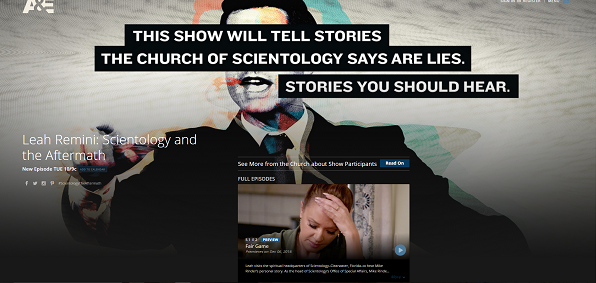 Tonight's season finale of Leah Remini Scientology The Aftermath touches upon the subject of how scientologists address mental health issues.
For many years, though Hubbard railed repeatedly against psychiatry, and called for psychiatrists to be shut down as a profession — he had one caveat. The insane should be left to the institutions. They were barred from participating in scientology auditing. It was one of the many contradictions that can be found in Hubbard's writings – while he claimed all psychs were maiming people, he didn't want scientology to be involved in dealing with the insane "because they take up too much of our time and too often don't respond well.
Then, in late 1973, he "discovered" the "cure" for psychosis. His solution was based on the study of one man who had suffered a mental breakdown aboard Hubbard's ship, the Apollo.  Hubbard devised a method for handling him, which included locking the man in a cabin in the focsle of the ship and having nobody speak to him or even talk within earshot. I have personal experience with this — as one of the new guys on the ship, I was assigned the unenviable task of sitting outside the cabin from midnight til 8am each nite to ensure nobody spoke in the vicinity. The subject remained in this cabin in this manner for about 10 days as I recall.
From this SINGLE case, Hubbard declared he had found the cure for psychosis and published it to the world in a bulletin of 23 January 1974 entitled "The Introspection Rundown"
In it Hubbard proclaimed (in all CAPS): THIS MEANS THE LAST REASON TO HAVE PSYCHIATRY AROUND IS GONE
This is the first part of his writing on the subject. This is the "doctrine" of scientology to this day.
HUBBARD COMMUNICATIONS OFFICE
Saint Hill Manor, East Grinstead, Sussex
HCO BULLETIN OF 23 JANUARY 1974
Remimeo
THE TECHNICAL BREAKTHROUGH OF 1973!
THE INTROSPECTION RD
(Steps of list 1 to 17 are subject to possible correction.)
I have made a technical breakthrough which possibly ranks with the major discoveries of the Twentieth Century. It is certainly the greatest advancement of 1973 and is now being released after a final wrap-up of research. It is called the Introspection Rundown.
The purpose of the Introspection RD is to locate and correct those things which cause a person to fixate his attention inwardly, on himself or his bank. This RD extroverts the person so that he can see his environment and therefore handle and control it.
RESEARCH
In 1970 the actual cause of PSYCHOSIS was isolated (as given in HCO B C/S Series 22, "Psychosis", 28 November 1970). In the ensuing years this has been proven beyond doubt to be totally correct.
But what is a psychotic break?
Man has never been able to solve the psychotic break. In fact, human beings are actually afraid of a person in a psychotic break and in desperation turn to psychiatry to handle.
Psychiatry, desperate in its turn, without effective tech, resorts to barbarities such as heavy drugs, ice picks, electric and insulin shock which half kill the person and only suppress him. The fact remains there has never been a cure for the psychotic break until now.
The key is WHAT CAUSED THE PERSON TO INTROSPECT BEFORE THE PSYCHOTIC BREAK.
The breakthrough was made on a person who, after a series of wrong indications, went into a full-blown psychotic break—violence, destruction and all.
The psychiatrist at this point would have sharpened up his ice pick, filled his syringes with the most powerful (and deadly) drugs he could find and turned up the volts. His "handling" would have been a final destruction of the individual.
What was done was an auditor went into the room, sat the person down and corrected the last severe point of wrong indication. Subsequent times of wrong indication in his life were cleared up, the person came out of the psychotic break and into p.t.
THIS MEANS THE LAST REASON TO HAVE PSYCHIATRY AROUND IS GONE.
The psychotic break, the last of the "unsolvable" conditions that can trap a person, has been solved.
And it's quite simple, really.
…
STEPS OF THE RD
…
0. On a person in a psychotic break isolate the person wholly with all attendants completely muzzled (no speech).
00. Give Vitamins (B Complex, including niacinamide) and minerals (calcium and magnesium) to build the person up.
He sums up his "breakthrough" this way:
You have in your hands the tool to take over mental therapy in full. You need not fear the insane or the psychotic break any longer.
Here also is the cure for the continual self-auditing pc who is dug into his bank. It works on all pcs in fact with rave results.
Do it flawlessly and we all win.
The "rundown" itself consists of numerous questions the person is asked on an E-Meter.
Hubbard subsequently issued further instructions to the Case Supervisor (C/S) in charge of the auditing concerning letting the person out of "isolation."
There comes a point where the C/S must decide to release the person from isolation. To do this the C/S must know that the person can take responsibility for his actions as regards others, as well as toward himself.
The C/S's action is a direct comm line to the person by notes. The person is provided with paper and pen to reply. The C/S must determine the person's responsibility level. Example: "Dear Joe. What can you guarantee me if you are let out of isolation?" If the person's reply shows continued irresponsibility toward other dynamics or fixation on one dynamic to the exclusion of others damaged the C/S must inform the person of his continued isolation and why. Example: "Dear Joe. I'm sorry but no go on coming out of isolation yet. Your actions threatened the survival of hundreds of people indirectly and 6 families directly by burning down their houses. You are unaware of the effects this could have had and still only concerned about your own welfare. You must hate the human race quite a bit."
Hubbard's "breakthrough" has been applied in scientology since. Scientologists are expected to sign an agreement that includes the following language:
I do not believe in or subscribe to psychiatric labels for individuals. It is my strongly held religious belief that all mental problems are spiritual in nature and that there is no such thing as a mentally incompetent person — only those suffering from spiritual upset of one kind or another dramatized by an individual. I reject all psychiatric labels and intend for this Contract to clearly memorialize my desire to be helped exclusively through religious, spiritual means and not through any form of psychiatric treatment, specifically including involuntary commitment based on so-called lack of competence. Under no circumstances, at any time, do I wish to be denied my right to care from members of my religion to the exclusion of psychiatric care or psychiatric directed care, regardless of what any psychiatrist, medical person, designated member of the state or family member may assert supposedly on my behalf (See here).
There have been a number of tragic results from the scientology "treatment" of those in psychotic states:
Lisa McPherson: she was taken out of a psychiatric hospital and administered the "Introspection Rundown" and died 17 days later under the care of scientology.
Elli Perkins: On March 13, 2003, Scientologist Jeremy Perkins killed his mother, Elli, by stabbing her 77 times. Jeremy, previously diagnosed with schizophrenia, never received treatment after previous incidents with violence and hallucinations. His mother, active in the Buffalo Church of Scientology, felt that vitamins and Scientology routines were better than psychological counseling and anti-psychotic medication.
Linda Waliki: On July 5, 2007, a 25-year-old Australian woman, Linda Waliki, killed her 52-year-old father Michael, 15-year-old sister Kathryn, and injured her mother Sue with a knife. She was diagnosed with a psychiatric illness, but her parents denied her continued psychiatric treatment due to their Scientology beliefs.
Gary Beals: attacked his father, Arthur Beals, and his mother, Lawana, with a knife, and then shot his father with a handgun. Gary was a Scientologist. The CoS had talked him out of seeking psychiatric help while bleeding his bank account dry. He blamed them for his crime.
Here are more articles about tragedies along the same lines: here, here and here.
This is the tip of the iceberg, but gives an introduction to this little known aspect of scientology that is highlighted in the season finale show.
The Show Tonight and the Series
There is another show coming next Tuesday that features some special guests, and hopefully before then we will be able to tell you where we are going from here.
As always, I am interested in your views – including criticisms and things you think might be better explained or covered.
For new readers here I thought you might find it instructive to be directed to some earlier postings that may help explain some things about scientlogy.
To begin to understand the mindset scientologists have about those who criticize any part of it, read this article:
Dealing with Critics of Scientology — The L. Ron Hubbard Playbook
And then read this one:
And here is a fairly short explanation of how disconnection is used in scientology (and how they try to spin the practice):
Disconnection: the PR and the Truth
An overview of the efforts by scientology to smear Leah Remini:
Scientology Dead Agents* Itself
And finally this is a post about the lies they tell about their "expansion":
Scientology "expansion" debunked
What You Can Do
Call your Congressman and Senator to do something about the ongoing abuses. Initiate a Congressional Hearing. Ask them to demand the FBI or IRS look into things with the church. Write to the IRS. Support and comment on media articles and blogs that cover the abuses (like Tony Ortega at the Underground Bunker) and express your support to A&E for stepping up and taking on scientology.
Watch Leah Remini: Scientology The Aftermath every week and tell your friends to do so.
Don't ever think you have no voice or there is nothing you can do. There is plenty.
Your support of Leah and everyone else involved is invaluable and appreciated. Please don't stop. Knowing there are a lot of people out there on our side is comforting and gives strength.