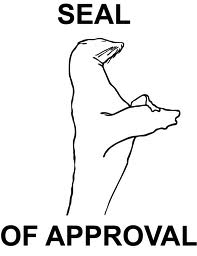 Even though it's still raining, the clubbed seals are positively orgasmic over the warmed-over dross served up by Dear Leader in the first installment of His three part Magnum Opus.
Honestly, I am not sure how many more of these I can wade through in the interests of science. But here we go. At least it is somewhat entertaining in a morbid sort of way.
In keeping with the admonition of NO DATA, Hans Eisenman and Co. gushed forth with more nonsensical meanderings, tortured math and sucking-upingness.   I wonder if all these people are working on amends projects and dutifully saving their FB postings as evidence of their devotion to Dear Leader?
They seem to honestly believe that a tent in Clearwater truly is the center of the universe — in the hundreds of billions of galaxies (let alone all of Pinellas county…) THIS is where the shit is going down…
It is bit of a sobering thought to contemplate.  If Dear Leader told the  mesmerized sycophants that he had uncovered secret writings from L. Ron Hubbard that we all had to build a space ship in the New Mexico desert to move off to Target 2, how many of them would actually pack their bags, sell their children and dutifully report for spaceship building (of course first doing the new Student Hat so they could all become rocket scientists as with that tech you can learn ANYTHING)?
Unfortunately, judging by these reactions, there are some who would.
While this is quite sarcastic, it is also concerning. If a concerted campaign was run announcing the "next big thing" that is going to "create a whole new universe" blah blah blah is "coming" and it is "what LRH wanted" and "it will be announced as soon as we have collected the funds necessary" and the big tent was expanded and relocated to a super secret location in the New Mexico desert that will only be revealed to those who have completed their Basics and Congresses and Objectives Co-Audit 5 times through, and the blinding flashes and loud noises were cranked up to even higher levels and it was all explained as "LRH said this could ONLY be released when we had ALL the tech straightened out and enough people were TRUE Objectives completions…." I do think a fairly significant percentage of these otherwise normal people would go along. Reality is created by what they are told from the stage by The Authority. 
Back to the real world (sort of).
One somewhat surprising tidbit in here is in between the restored tech of BTB's and the "discovery" of Ser Fac handlings on NED he found time to show some more empty BUILDINGS.  They really impressed at least one attendee  who swallowed the stinky fish and clapped for more. "Look at those damned buildings — they are PROOF we are not small any more." Wow. 
BTW — the only feedback so far on attendance is that the only location for the event was the KSW Tent Of Magnificence. No overflow in the Auditorium or Ballroom. The church alleges the tent holds 6500 (more like 4500 based on how many it held in the UK, unless the chairs are smaller here and they were pretty small in the UK!) so that is the maximum attendance.