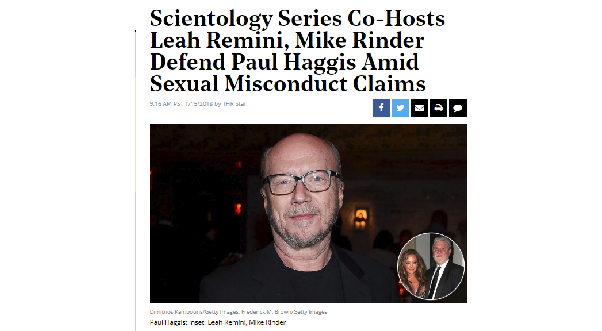 Scientology sent a statement to the press about our Paul Haggis post.
As with everything in scientology's PR denial closet, you have to read it closely and parse its terminology carefully. Scientology mastered the technique of "depends upon what the meaning of the word 'is' is" long before Bill Clinton came along.
Here is the statement in the Hollywood Reporter:
In a statement, the Church of Scientology responded to Remini and Rinder's letter. The Church's full response is below:
Leah Remini, Paul Haggis and Mike Rinder have predictably thrown up a reprehensible smokescreen to turn horrific sexual assault and rape allegations made against Haggis by four women into a bigoted attack about their former religion.
Today's transparent ploy by Remini and Rinder fails to mention that plaintiff Haleigh Breest's court papers definitively state that "Ms. Breest has nothing to do with Scientology. Being a critic of Scientology does not give a man permission to rape." Furthermore, Remini and Rinder conveniently fail to mention that the three additional women making allegations against Haggis all are on record to the Associated Press as stating that they are not Scientologists — as if an alleged rape victim's religion should matter — and that these allegations have nothing to do with the Church. Not only are Remini and Rinder mouthing a debunked conspiracy theory that was dead on arrival when they posted today's rant, they further offend countless other alleged victims with stunning insensitivity.
To be clear, the Church has never met the women in this case nor their attorneys and knows nothing about the accusations against Haggis other than what has appeared in press reports and public court documents. 
Apparently they want to hang their hat on the fact that the accusers are "not scientologists", as if this is what we said.
If this was a scientology operation, the accusers are unlikely to be scientologists.  It would be too easy to trace. Not even scientology is that foolish and I would be the last person to allege that these accusers were scientologists. See my recent blog post about the scientology spy, Heather McAdoo (The Story of a Scientology Spy). She was NOT a scientologist. Just someone who was persuaded by a Private Investigator to do something completely immoral and sordid for money. The LAST person scientology would want as an operative would be a scientologist (it is VERY difficult to hide their involvement). The fact that none of the accusers is a scientologist is dispositive of absolutely nothing.
They then go on to claim we are "mouthing a debunked conspiracy theory that was dead on arrival"  — this "debunked conspiracy theory" being what? That scientology engages in activities to frame its enemies? That is FAR from a "debunked theory." That is a well-documented FACT. See my recent post Framing Whistleblowers — The Scientology Playbook.
So who really is "offending countless other victims with stunning insensitivity"?  That would be scientology trying to pretend righteous indignation that they could possibly frame critics. Try telling that to Paulette Cooper. Or Gabe Cazares. Or David Miscavige's own father.
And the final denial "To be clear, the Church has never met the women in this case nor their attorneys…" This is likely a literally true statement. But once again, one has to look at what it actually says. "The Church" never "met" Heather McAdoo either. She was hired by a Private Investigator who was hired by an attorney. David Miscavige tried this same line about the PI's caught spying on his father — he didn't know them.
When things are REALLY sensitive, the cut-outs are carefully constructed. A lawyer hired by scientology retains another lawyer for an "undisclosed" client and that lawyer hires Private Investigators who then hire operatives.
If all this seems sort of far-fetched, remember Harvey Weinstein and the army of high-priced lawyers, PI's and spies he employed (see my earlier post on this subject Harvey Weinstein and Scientology — Separated at Birth? following the brilliant piece by Ronan Farrow in the New Yorker). Harvey Weinstein was an amateur compared to scientology. Don't forget, scientology was convicted of engaging in the largest infiltration of the US Government in history. And it is a part of their religious doctrine to destroy their enemies. And L. Ron Hubbard explained in detail how to go about framing someone.
Perhaps these accusers have randomly crawled partly out of the woodwork of their own accord as a pure coincidence. That is possible.
The problem is that scientology has a documented history of engaging in frame-ups of its enemies, and a doctrine that dictates they continue to do so as the gospel according to L. Ron Hubbard. It's hard to ignore that once you know. Scientology tries to pretend it doesn't exist for that very reason.
We want ALL the facts to be known.