Haven't seen mention of the notorious Tony Mo — Tony Muhammad (he now goes by Abdul Malik Sayyid Muhammad) — for some time.
He suddenly re-appears at an event hawking "Super Power"…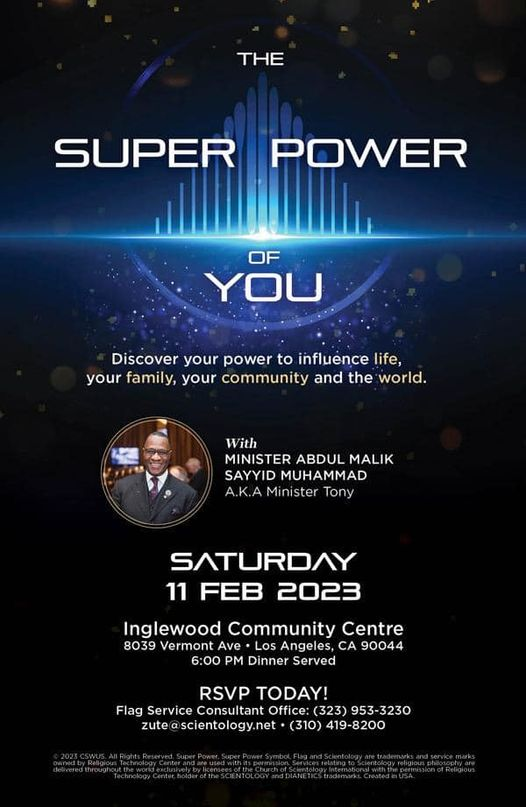 For those unfamiliar, Tony is a big cheese in the Nation of Islam and was the original grifter who came into the scientology world through one of scientology's great scamsters, the Reverend Alfreddie Johnson. Alfraudie helped introduce the NOI to the world of scientology, a marriage made in hell. Tony was awarded the prestigious and coveted (at least inside the bubble) IAS Freedom Medal…
I have written several pieces about Tony, the NOI and scientology. Here
An Update on the Anti-Semitic, Racist and Homophobic Statements by Tony Muhammad
Tony Muhammad Searching for a "Good" White Man – "I might have found a half of one"
The Rise in Hate Crimes Against the Jewish Community — Scientology's Role
It is such an unlikely pairing — the anti-Semitic NOI has found a home in the supposedly anti-anti-Semitic world of scientology. At least that is what scientology is according to the STAND/Freedom Mag stories patting themselves on the back for fighting so hard for tolerance and an end to anti-semitic hate and bigotry. Yet, they support the NOI and use their head honcho for the West Coast and good pal of Louis Farrakhan to attract people to their events promoting giving money to scientology.
As always with scientology — if they see a short term financial gain their proclaimed principals are quickly abandoned…