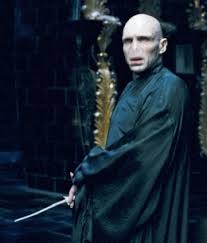 You may recall from my post last week  "Voldemort News" that the ironclad promise was that the date of "The Events" would absolutely be announced at this week's graduation — "make sure not to miss it."
I guess everyone took heed except Voldemort himself.
He was a no show at graduation.
And thus there were no dates announced for "The Events" — what a shock and massive disappointment for those being held captive at Flag! 
But, you will of course be pleased to know that there was a lot of fabulous, amazing, incredible news — the GAG II and Class XII trainees are "progressing nicely,"  "fantastic wins" are happening and there are "Highest Ever after Highest Ever." 
A number of reports have also come in mirroring the blah blah briefing from the ED Joburg Day.
The ED's arrived back in their orgs and held "briefings" — giving NO specifics, just that "It will blow your mind and make planetary clearing a reality for reals…." Followed by a pep talk to finish the Basics and contribute to the IAS. They were probably all given scripts to take with them to ensure they didn't say anything off message at all.  Voldemort knows those ED's cannot be trusted not to screw it all up. And he has it all planned out so perfectly, it is rolling out like clockwork as only a master of organization could pull off. And everyone knows a briefing of this magnitude can only be done right by one person on earth, and he just doesn't have time right now as he is so busy writing 50 programs that are needed to confuse and overwhelm everyone.
What else is new?
Rhetorical question, but one other bit of information that came in is that the IAS have cranked up a novel fundraising idea. They are now sending regges into orgs and getting local org public to donate so THE ORG can be awarded a "status" — "Gold Meritorius Org".  Orange may be the new black, but in the RCS status is the new "enlightenment."