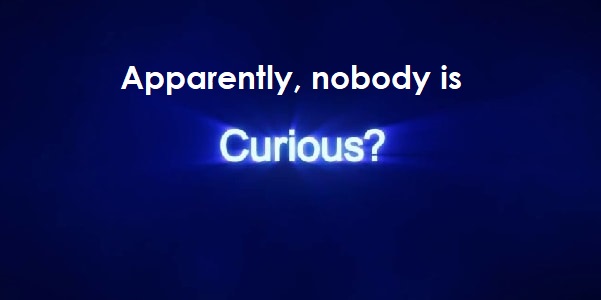 STAND League makes a big deal out of the "ratings" of The Aftermath and A&E. Still at it more than a year after the last episode aired.
This is one of their recent headlines, exhorting Disney to "pull the plug" on A&E.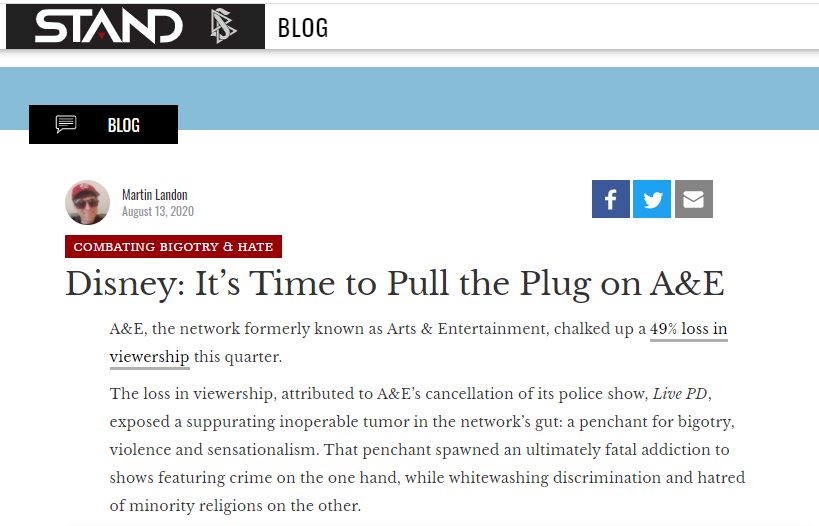 The hypocrites at STAND proclaim "the audience has spoken and they reject hate speech"…
Actually, the audience spoke and made The Aftermath the biggest hit A&E had when we were airing — though Live PD had higher audience numbers, The Aftermath was their "prestige" show. Emmy nominations across 4 years for 3 seasons and numerous other awards and accolades.
Of course, there are no available statistics for scientology TV, no audience numbers at all. And they would not dare publish them. And they have not been nominated for a single Emmy for anything, nor a Producer's Award, TV Critics Award or any of the other awards The Aftermath garnered.
So, with nothing on audience or awards, the next best thing is to check out their Alexa Ranking. For those unfamiliar, this is a ranking of websites. Google is #1. There are 369,706 other websites that get more traffic than scientology TV.
It does not give any information about actual audience figures, and it does not reflect who may click on the channel on DirecTV (and ONLY those with DirectTV in the US can access it there, everyone else in the world and anyone in the US without DirecTV must connect through the website whether to watch on a computer or smartcast to their TV).
What Alexa DOES clearly show is the declining interest. I guess the tiny audience they may once have had have spoken and they reject scientology propaganda. Perhaps it's time for the COB to pull the plug on scientologyTV. The promised mass dissemination with millions flooded onto and up the Bridge has gone the way of every other promise in the history of scientology starting with Clears don't get colds and have perfect eyesight.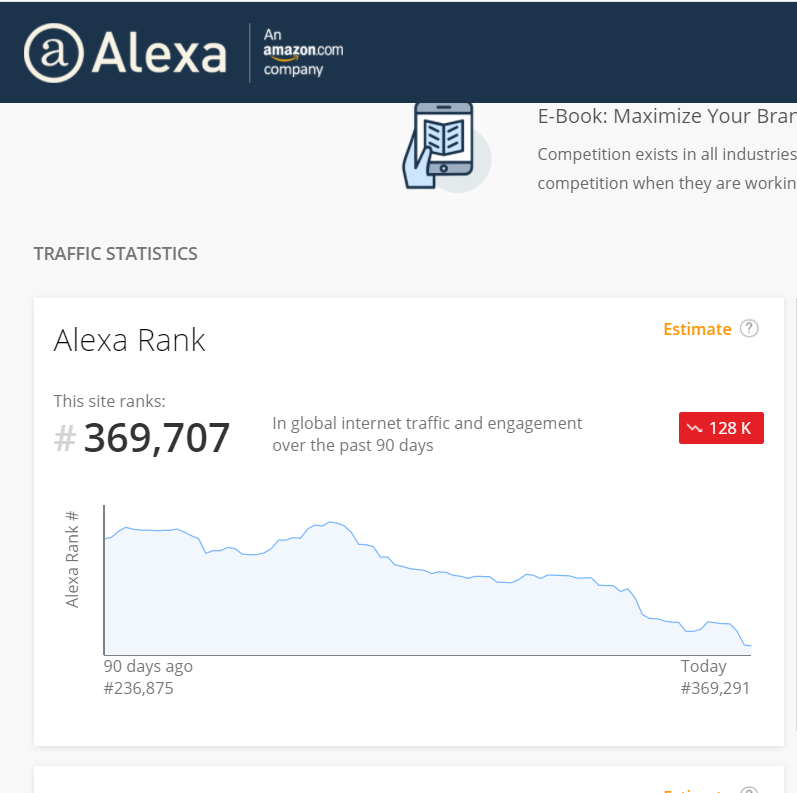 While on Alexa, I also checked out the scientology.org rankings. This is the big daddy of scientology internet efforts. The umbrella website they try to make their version of "Google"….
How are they doing?
Better than scientology tv, but overall, not so hot. Just holding steady around 100,000 mark in the world and 45,000 in the US.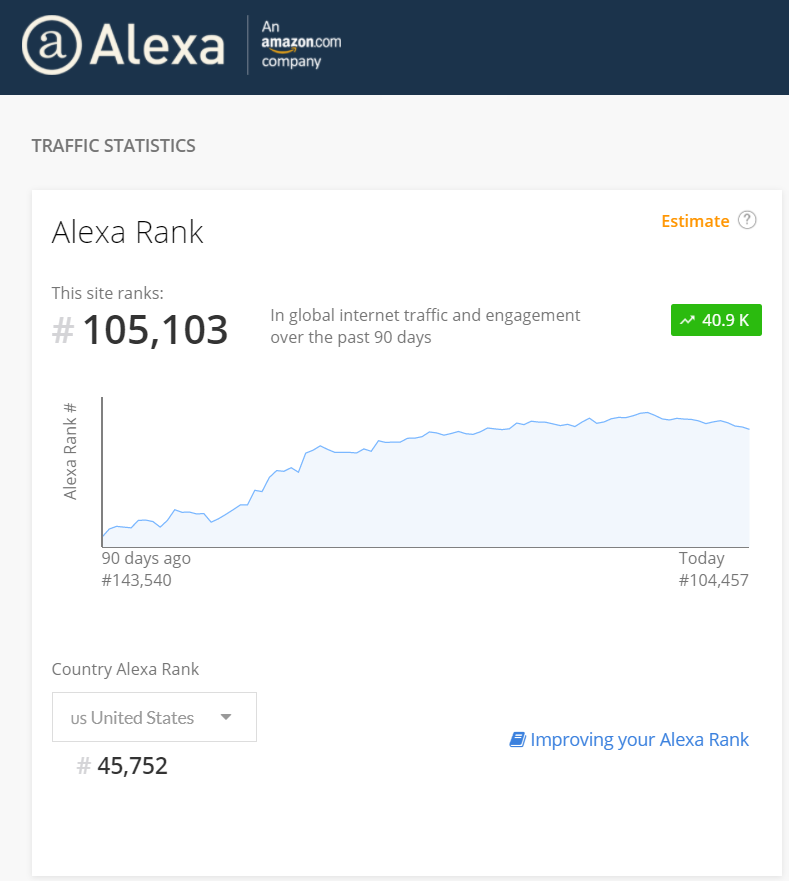 Still, it's hard to tell much from this without a comparison. We do know that interest increased for a couple of months and has now tapered off. They spend millions advertising this site. They link hundreds of other sites to it to increase its SEO.
So, here is a comparison. This blog. Just me. No advertising. No team of social media drones. No paid clickfarms.
Just a bit higher internationally. But kicking their ass in the US — they get a lot of traffic from Indonesia and India where there are no orgs, but there are clickfarms.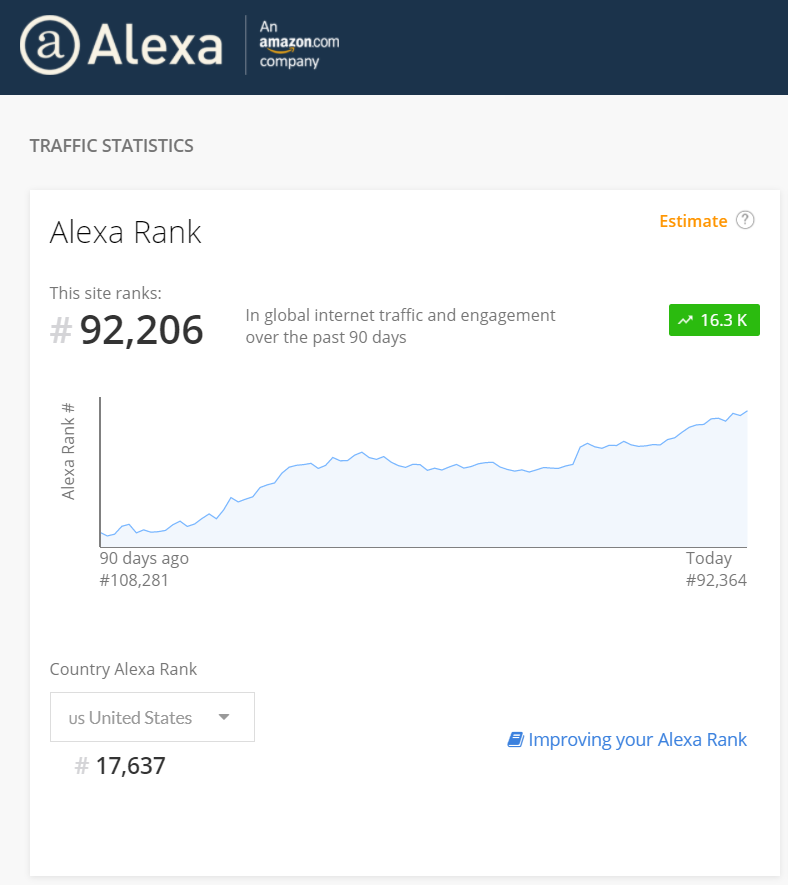 And I guess the audience has spoken. They want to know more about the REAL scientology — not the propaganda on scientologyTV and scientology.org.
And while I am at it. Some scientology drones are spreading made-up "graphs" on Twitter trying to trash the new Scientology Fair Game podcast. Of course, they are starting to go as crazy about the podcast as they have been about The Aftermath. Rest assured, though iHeart does not publish download numbers, I can tell you they have an expectation for a new podcast to be considered a "hit." It's a certain number of downloads in the first three months. Fair Game exceeded that 3 month number in the first 2 weeks and it has been increasing since.
When Dave reads all this, there is going to be hell to pay. The internet unit is going to be downgraded from rice and beans to bread and water….