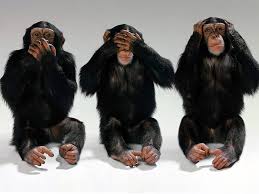 Somewhat random thoughts after returning from an out-of-town trip.
Cognitive dissonance has reached an art form within the walls of the RCS bubble. 
Cognitive dissonance is described this way:
Mental conflict that occurs when beliefs or assumptions are contradicted by new information. The concept was introduced by the psychologist Leon Festinger (1919–89) in the late 1950s. He and later researchers showed that, when confronted with challenging new information, most people seek to preserve their current understanding of the world by rejecting, explaining away, or avoiding the new information or by convincing themselves that no conflict really exists. 
The "Golden Age" of Knowledge/Tech/OT/Fundraising
If anyone really sits and thinks for a minute about the "Golden Age" scam it is perhaps the best evidence that the end result of Organized Scientology is brainwashed robots. Put aside the simple fact that what was implemented as the "Golden Age" in GAT 1 has now been found to be all wrong 17 years later in GAT 2.
Here is what Miscavige has managed to persuade people:
1. I am the most "on Source" person in the world, nobody even comes close. All I dedicate myself to is making "pure Source" available to everyone.
2. The reason for being so "on Source" is that one must be absolutely true to the precise, detailed, unaltered words of L. Ron Hubbard
3. LRH created all this but really, he was astonishingly incompetent as everything he ever did didn't really work, it was messed up by others, nobody ever really understood it and now I am having to sort it all out and set it straight.
4. I am making LRH understandable finally and doing everything he wanted because apparently he was unable to make himself clear and understandable.
5. But he was SO precise and exacting that we must hang on his every word, comma and inflection — even the tiniest word is incredibly significant. 
6. But he had a lot of it wrong and was incapable of communicating it so it could be properly understood,
7. Now I am going to shift things around, not because I know better, but because I know better what LRH meant and what it is he wanted.  Which has not been clear before this. Even though he was so precise in everything he said we cannot alter or challenge a word he said. 
This is quite an amazing feat.
And the sycophants who now hang on His every word and pronouncement, have tears of joy running down their cheeks when He tells them this because He is so brilliant and so caring.
He should be applauded. He makes David Copperfield look like a half-assed amateur.
Ideal Orgs — Old News
For a decade, the "solution" to "planetary clearing" has been "Ideal Orgs" and ONLY Ideal Orgs. Consider the amount of money that has been collected from people on the basis that this HAD to be done for the expansion of Scientology. And WHILE that was going on, He KNEW that "everything was fucked up and the Bridge was blocked" (at least according to how people understand His briefing). Didn't He have an obligation to let people know that he was working on the "real" problem so they would stop wasting time and money on the "old" solution?
Ideal Orgs are now backburnered. No new ones opened in the last 6 months. In fact I heard they ALL had to be replanned, costing millions of dollars, in order to "accommodate" GAG II? Why, nobody seems to know. 
But the last big thing is now superseded by the "next big thing."  
Which one is the REAL "big thing"?
Where's Shelly?
How is it that this was the biggest and most important event in the history of the universe and EVERY Scientologist was expected to be present and Captain Miscavige's wife was NOT present?  She couldn't make time in her busy schedule to attend?   
And what about the Executive Director International? THE person who runs the church (Captain Miscavige has NO involvement in the day to day activities of the church according to his lawyers).
There was no Senior CS International present for the greatest technical presentation and breakthrough EVER.
The President of Church of Scientology International was not present for the ribbon cutting of Scientology's "cathedral" — but nobody notices?
In fact, the word you hear from staff when asked "Where is ED Int" and "Where is Heber" is a total shore story "They are on post at Int, doing special projects."  
It's not even a little strange to these people that they were not present?
Miscavige figures He emanates such brilliance that everyone is blinded by His light and don't notice the omissions all around him. He is right it seems. 
Responsibilities of Leaders
See the article by Jefferson Hawkins on Tony Ortega's blog this morning. As always, Jeff is right on the money.
This policy letter is one of Captain Miscavige's absolute favorites. It is pounded into people to convince them they should do anything needed to support and protect Him. Couple it with the "Greatest good for the greatest number of dynamics" (with the 3rd counting for 8 as "the church" of course benefits ALL dynamics) and you have the recipe not only for inhumanity and abuses, if not illegality, but it also makes clear why otherwise normal people will lie with a straight face, even under oath if they believe they are protecting the power that is expanding the church. THIS is why it is so important for Captain Miscavige to be seen as the savior of the church, without whom all would perish. Because that in turn engenders fanatical levels of "loyalty" and a willingness to cover up his abuses and crimes. 
Declares and Disconnection
Of course, every Scientologist in the world can quote you the old saw: "If it isn't written it isn't true." 
This is held as an inviolate truth unless the church says otherwise.
As in:
"You need to disconnect from this person."
"Are they declared?"
"I am told they are."
"Have you seen anything in writing?"
"No, but I heard someone else say they had seen something but could not have a copy."
"Understood."
See the latest story on the South African blog. 
What Is Wrong With These People?
Probably this is ultimately impossible to answer. But at the least most who still go along with this idiocy are too invested to admit they might have been wrong. To think anything other than the party line will in their minds make them completely wrong.
Maybe if they do His "new" Grade IV with NED Ser Fac Handlings they will be able to free themselves from that compulsion to not be wrong.
Good luck with that.