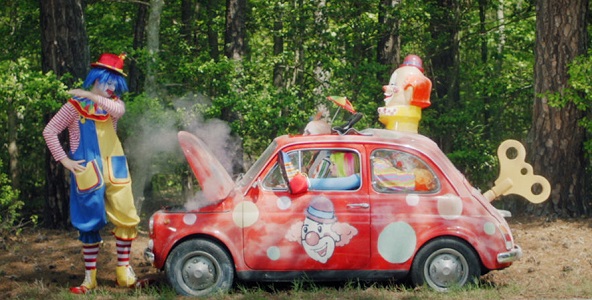 The STAND League has me on a bit of a roll.
This ragtag collection of "defenders of the faith" (some of them no doubt doing an "amends project" for some transgression, others doing it to gain "eligibility" for their OT levels) comes up with the craziest stuff.
They try to categorize people by association. When Hollis Jane Andrews tweeted about a crazy list of duties for a babysitter job for a scientologist, she earned the ire of the passengers in the STAAD league clown car. Nobody claimed the bonkers list of demands she included were untrue, they simply went after her as a "bigot."
And brave twitter warriors they are, they began equating her with being a racist, anti-Semite, white supremacist, Islamaphobe and homophobe (note: scientology teachings are definitely racist and homophobic). They're "all the same" as an "anti-Scientologist."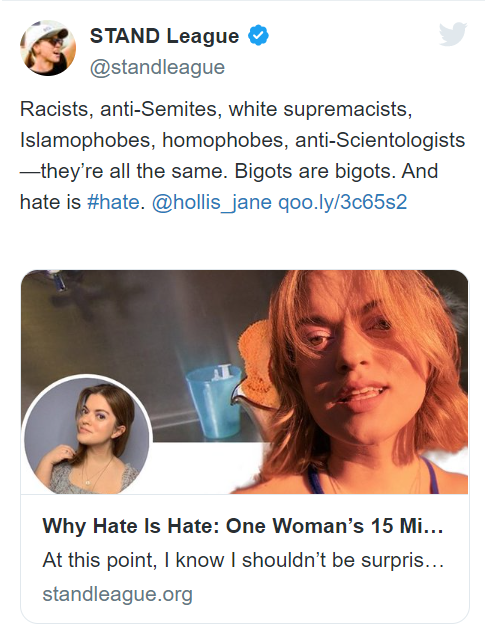 Except she is not anything close to an anti-Scientologist. Or at least she wasn't at the time of her original tweet. She simply posted about an experience — with the actual document included. This is the entirety of the crime that landed her in the pantheon of disgusting hatemongers on earth: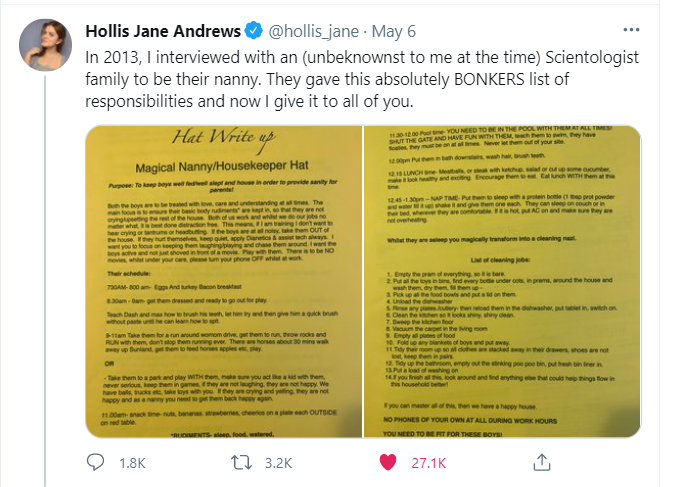 Piled on top of this insanity is the fact scientology has gone hog-wild to identify themselves as being fervently opposed to anti-Semitism. It's a convenient way for them to categorize themselves  — anti-Semitism and "anti-Scientologism" are just two sides of the same coin.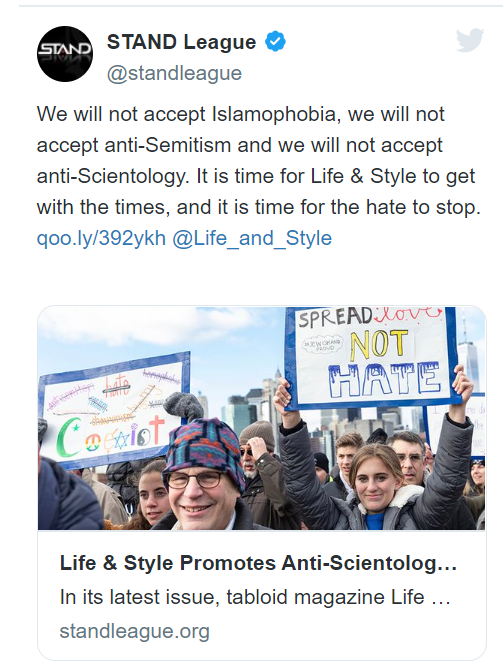 And now they are even retweeting the ADL.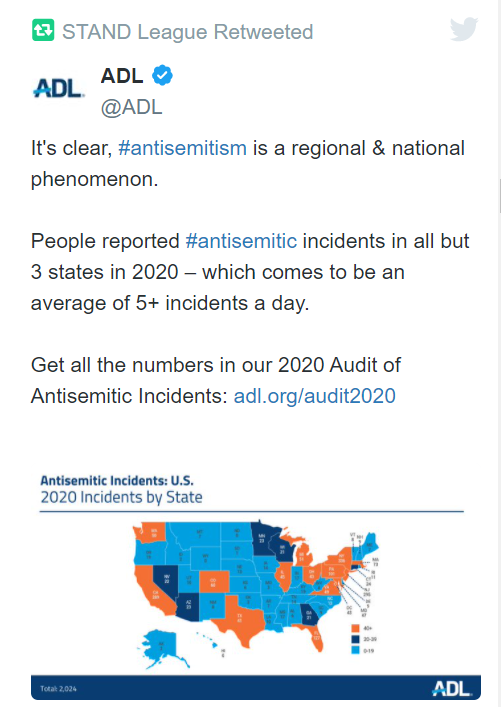 Why is this so bad? Surely support for those who stand against anti-Semitism is good? Even if comparing themselves was only a wildly misleading false equivalency. They're getting the message out and that is good…
Except for one inconvenient fact that I have written about repeatedly on this blog — a recent example here — scientology fully supports some of the loudest and most persistent anti-Semitic voices in America, Tony Muhammad and his boss Louis Farrakhan. In fact, Tony Muhammad is a celebrated scientologist awarded their highest honor, a Freedom Medal. Only 3 people a year are awarded such an honor and they are celebrated with an internationally televised event.
STAND League has never said a word about Tony Muhammad's vicious rants against Jews. However, they do laud him in their own publications and rely on him for fundraising and bringing in new recruits from the Nation of Islam. Juxtapose that with a woman tweeting a document highlighting the scientology kook factor, and she is subjected to a full on smear campaign.
These people at STAND claim they stand for human rights. In fact, they are nothing more than a cheap propaganda factory charged with smearing anyone who says anything they don't like about scientology. You can bet Tony Muhammad would have a smear site and a bunch of tweets from the STAND League if he said anything about scientology. Suddenly he would become an "anti-Semite and anti-Scientologist." But he brings in cash and people, so the champions of anti-Semitism at scientology HQ say nothing about it. Clearly, they have plenty of time on their hands — they quickly leap into action when a reporter mentions Hubbard's quote about starting a religion, or an actress tweets out a list of bonkers job requirements from 2013. This is some important stuff.