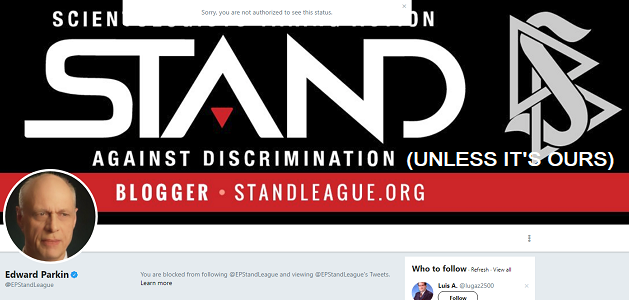 Once again, scientology demonstrates "do as I say, not as I do" — following the well-trod path of founder, L. Ron Hubbard.
Here again we see the so-called "Stand League" (I prefer to call it by its true acronym, STAAD — "scientologists taking action against discrimination") railing against anti-Semitism in one of their recent blog posts.
This is their attempt to present themselves as champions of religious freedom and speech by taking a sure-to-gain-agreement stance that anti-Semitism is to be deplored.
How brave. How noble.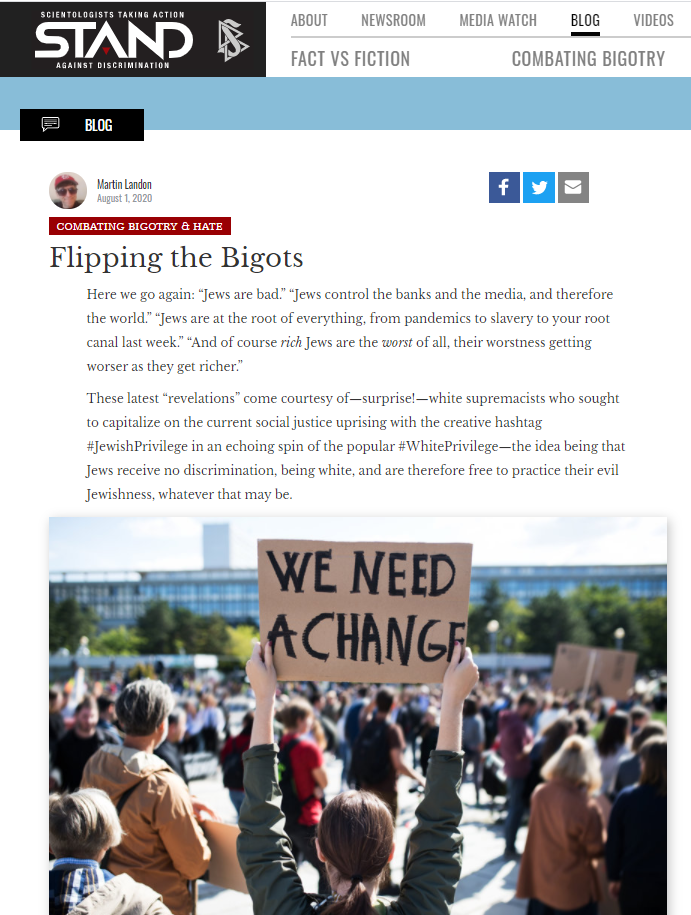 Old Martin Landon has really gone out on a limb with this one. And at the end of his piece he even invokes MLK:
How can you help turn off the "bigot spigot?" Simply don't buy into any invitation to hate—anybody. As Dr. Martin Luther King observed, "Returning hate for hate multiplies hate, adding deeper darkness to a night already devoid of stars."
There are just a couple of large problems with this scientology propaganda.
First, scientology has its own "scripture" (as they call it) written by L. Ron Hubbard which calls for the utter destruction of their "enemies." It is enshrined in a system of abuse and harassment he called "Fair Game." They don't even "return hate," they emanate it. Especially for those who are no longer scientologists. This is a class of people — ex-scientologists — who have absolutely no right to even exist in the eyes of scientology. We are the scientology equivalent of the Jews to White Supremacists.
Second, one of the most celebrated and lauded people in scientology is IAS Freedom Medal Winner, international fundraiser and IAS poster child, Tony Muhammad. He straddles the two partners of the marriage made in hell between scientology and the Nation of Islam.
I have done a number of posts about this before — this is a recent one: An Update on the Anti-Semitic, Racist and Homophobic Statements by Tony Muhammad.
And here is a selection of quotes from "Minister" Muhammad:
"I'm going to show you how the Jews came to make sure that Black people never made no gains in America through jobs."
"The serpent is the press, is the media, is the Jewish control.  They're lying. Lie, lie, lie, lie."
"And I'm telling you the Jews do control the entertainment business. They control the banking. They control the athletics. They control basketball. They control baseball. They control it all. And, they control the drugs. They control the pimping. They control pedophilia. They control pornography. They control it all."
Tony Muhammad continues to be featured on ScientologyTV as one of their "Voices for Humanity."
Hey Martin, don't you think you might do something about putting your own house in order before you star complaining about the White Supremacists? You have an avowed anti-Semite being lauded and promoted within your own organization. You know, people in glass houses…