Ed Parkin (and his Dear Leader, David Miscavige) continue to be obsessed about A&E.
Not content that The Aftermath completed its 3 season run more than a year ago, they are operating on the Hubbard dictum "I never forget, I always even the score" and continue, once a week on average, to write editorials demanding the entire A&E network be exterminated.
They literally want to cost every A&E employee their job, also pursuant to the dictates of Hubbard. Everyone who works at A&E is an "enemy" because they are connected to The Aftermath, Leah Remini and Mike Rinder.
Why does scientology continue to push for a "final solution" for a network that has not aired an episode since last year? Perhaps because you can still find the episodes on their website? How come they are not calling for the disband of Hulu where you can also find them?

Here is some of the hype from Martin Landon. It's familiar sounding blather…
A&E is beyond curing at this point. It has long since pawned its soul for a few truckloads of silver. It won't reform. And the thing it most treasures—above truth, above art, above the intellectual and aesthetic nourishment of its viewership: sponsorship money—is gone and is not coming back. What we're witnessing now is a network wriggling like a wounded snake, continuing to spew venom in its final writhings.
It's time for Disney, A&E's too-indulgent parent company, to put A&E down like Old Yeller, a once-good dog gone mad. It's the humane thing to do at this point before the network does even more damage to the American public.
What the world needs now is love, not A&E.
Funny to read scientology being critical about a company being interested in profits above all. That's what companies do. It's NOT supposed to be what "religions" do — but hey, what's a little pot calling the kettle black. That's par for the course when it comes to STAND.
And here is another article from a few weeks before.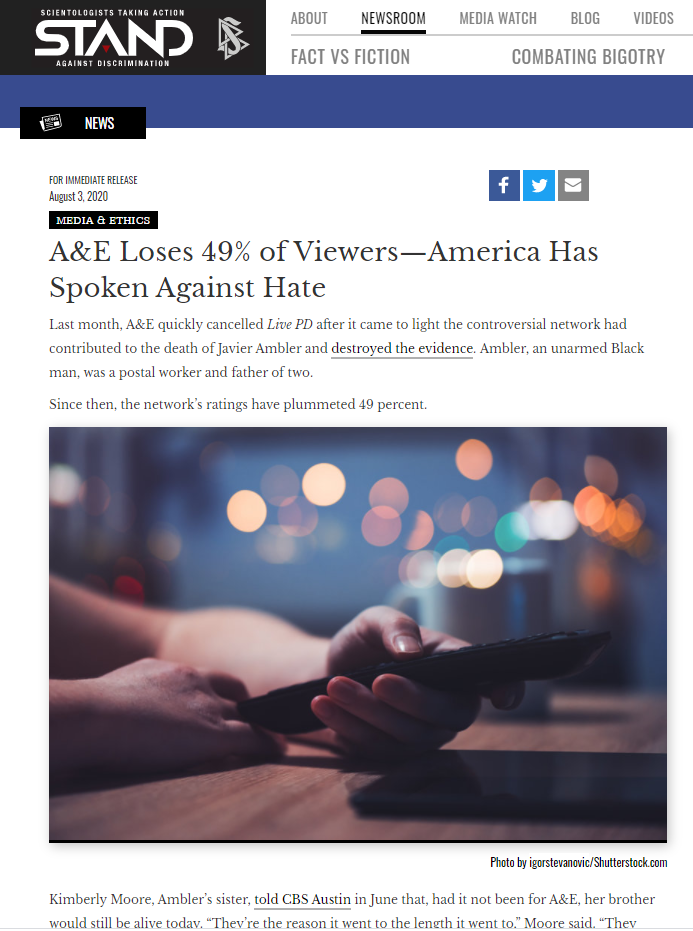 This one still brings up the murder that took place in the Advanced Org in Sydney.
Unfortunately, no public records are available. What prompted the attack? Scientology tries to claim it is that the person watched The Aftermath. Nothing to do with the fact that people are abused and kept from their families. There's another death we still don't know about in Inglewood. It's going to be fascinating to see the facts finally come forth.
Also of note is the claim that scientology got advertisers to cancel their ad buys in "an expression of solidarity against hate, General Motors, Geico, Georgia-Pacific, Ikea and others withdrew their advertising from the Aftermath show…" – of course, another lie. Not a single one did so — you may recall the recent announcement that STAND league made about a coffee company withdrawing from sponsorship of the Emmy's in protest of the continued recognition of The Aftermath. Turns out that was made up too.
Ed Parkin and his STAND minions have accomplished one thing without doubt: complete mastery of the art of the footbullet.