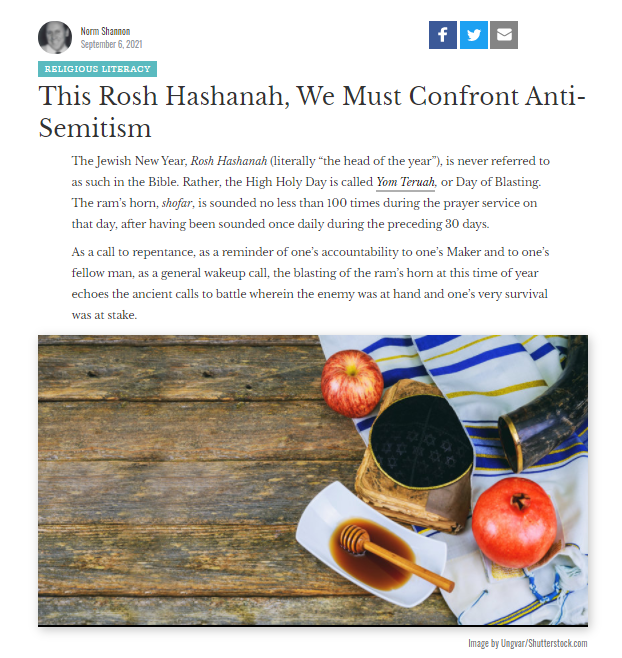 The STAND Leagues crazies carry on as if their lies are not noticed.
Sockpuppet Norm Shannon just put forth a new plea to end anti-Semitism under the guise of explaining Rosh Hashanah.
He says: Hate crimes, according to the report, overall increased by 6 percent over the previous year with nearly 60 percent of the incidents targeting Jews and the Jewish community.
There is no question there has been a marked rise in hate directed at Jews. Far right groups have been stirring the anti-Semitic pot over recent years. Norm goes on to quote Jewish leaders and expresses his moral outrage that such terrible hatred towards Jews is tolerated.
Erm, Norm. Hold on a second.
Have you ever heard of that guy Louis Farrakhan and his sidekick Tony Muhammad? You know, the Tony Muhammad that is the IAS "Freedom Medal" winner and fundraiser/shill for scientology? The same guy who is featured on ScientologyTV as one of their "Voices for Humanity."
These guys have been stirring the anti-Semitic hatred for years.
In case you are not familiar Norm, here's an article that might help you direct your outrage to an ACTUAL source of anti-semitism rather than just a nebulous rant on a scientology website designed to trick people into believing scientology champions human rights and is not supportive of anti-Semites like Farrakhan and Muhammad.
An Update on the Anti-Semitics, Racist and Homophobic Statements by Tony Muhammad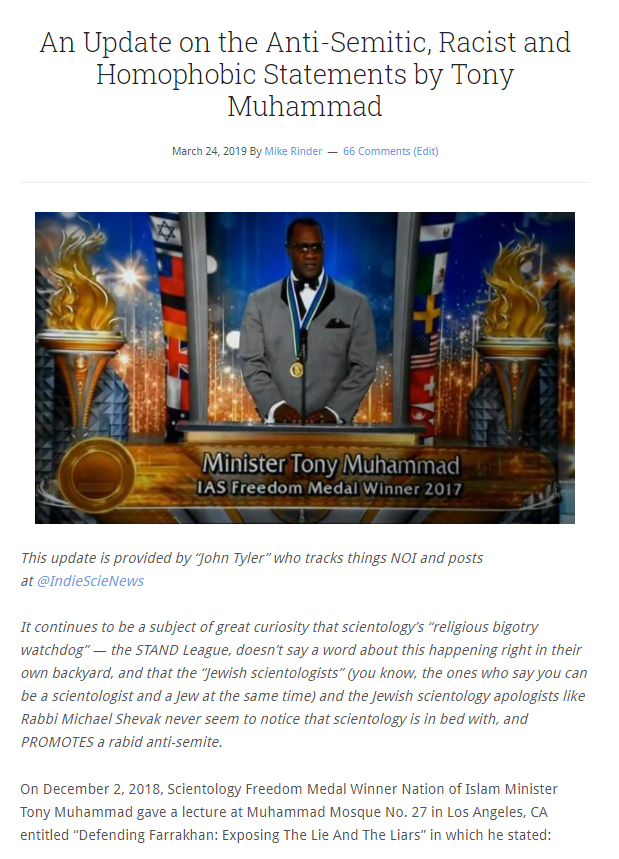 Norm, to save you the trouble of having to actually watch any of his videos, here is a selection of quotes from "Minister" Muhammad:
"I'm going to show you how the Jews came to make sure that Black people never made no gains in America through jobs."
"The serpent is the press, is the media, is the Jewish control.  They're lying. Lie, lie, lie, lie."
"And I'm telling you the Jews do control the entertainment business. They control the banking. They control the athletics. They control basketball. They control baseball. They control it all. And, they control the drugs. They control the pimping. They control pedophilia. They control pornography. They control it all."
Norm, if you are actually concerned about anti-Semitism, why don't you write an article asking scientology leaders why they continue to support, and refuse to denounce, Farrakhan and Muhammad? That would be a far more effective action to take.
But then again, that would get you in deep trouble within the scientology bubble.
Maybe, if you actually LOOKED, you might realize that you would be better off outside that bubble,