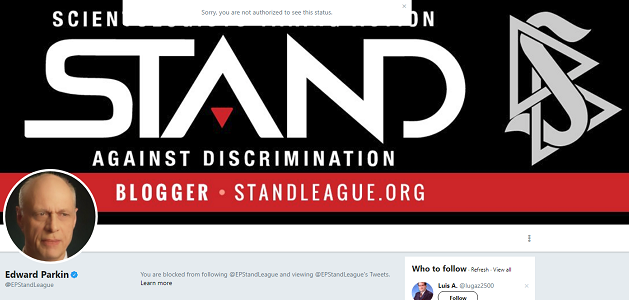 This is the latest piece of self-praise that appears on the phony "STAND League" website.
Everyone knows this is simply a front group run by the Office of Special Affairs International and their Twitterer-in-chief Fast Eddie Parkin.
They claim they fight for religious freedom and against bigotry and hate — but in fact the majority of their efforts go to "dead-agenting" Leah Remini, me and the brave victims of scientology abuse who have been on our show. With no new episodes airing, they have little to write about. So while Fast Eddie keeps tweeting about us, they put up a few things on their website that are rather comical, trying to appear that they have something worthwhile to offer.
This is the latest…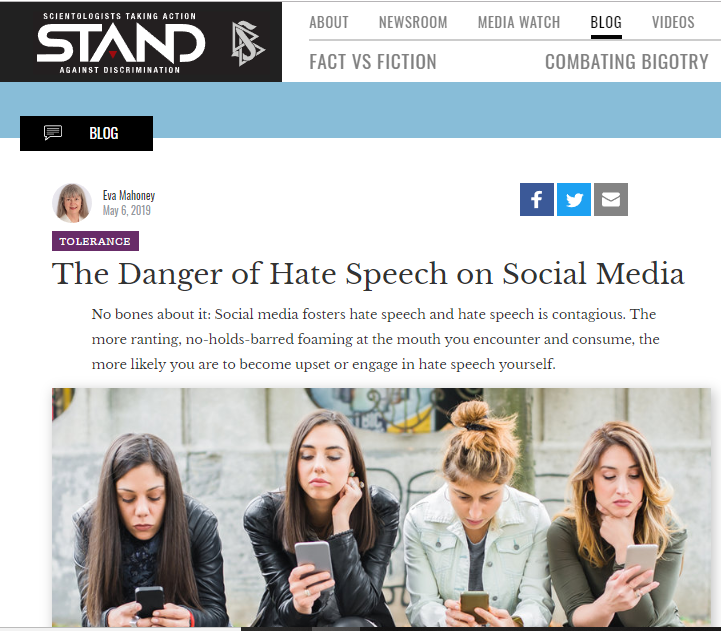 Eva Mahoney is prolix, so I will save you the time of having to wade through her rambling thoughts.
There is one paragraph that stood out:
Then there are the anti-Semitic and anti-Muslim comments following stories on social media. Peppered in are suggestions that Jews and Muslims should be deprived of their human rights and killed. Nazi much?
OK, Eva, you put your foot right in it.
I have been challenging Fast Eddie on Twitter to make any sort of statement concerning the blatant, disgusting and unapologetic anti-Semitic statements by IAS Freedom Medal Winner and scientology fundraiser par excellence Tony Muhammad. Not a peep has been heard from the otherwise twitter happy Fast Eddie about TonyMo.
But now his organization (you) has made a point of calling out the anti-Semitic hate speech on social media. But one of your most prominent scientologists is one of the most guilty parties of this practice.
You  guys go to great lengths to make videos and websites decrying everyone from the chairman of Disney and President of A&E to mothers who have lost their children to disconnection. But not one of them has done anything like TonyMo.
So, STAAD League — what IS your position on the anti-semitism of one of your own? Are you ever going to have the courage to stand up and speak out against this disgusting person you continue to promote and champion?
Of course, we all know the answer. What does it matter if you are lying fakers when that is your very reason for existing?