You have probably seen by now the news that 3 former children of the Sea Org filed a lawsuit today.
Tracey McManus article in the Tampa Bay Times.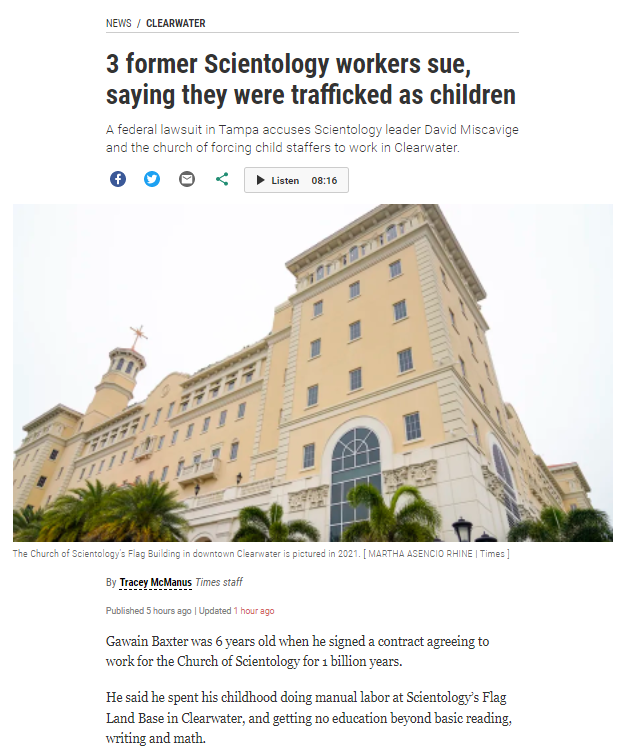 Ben Schneiders article in the Sydney Morning Herald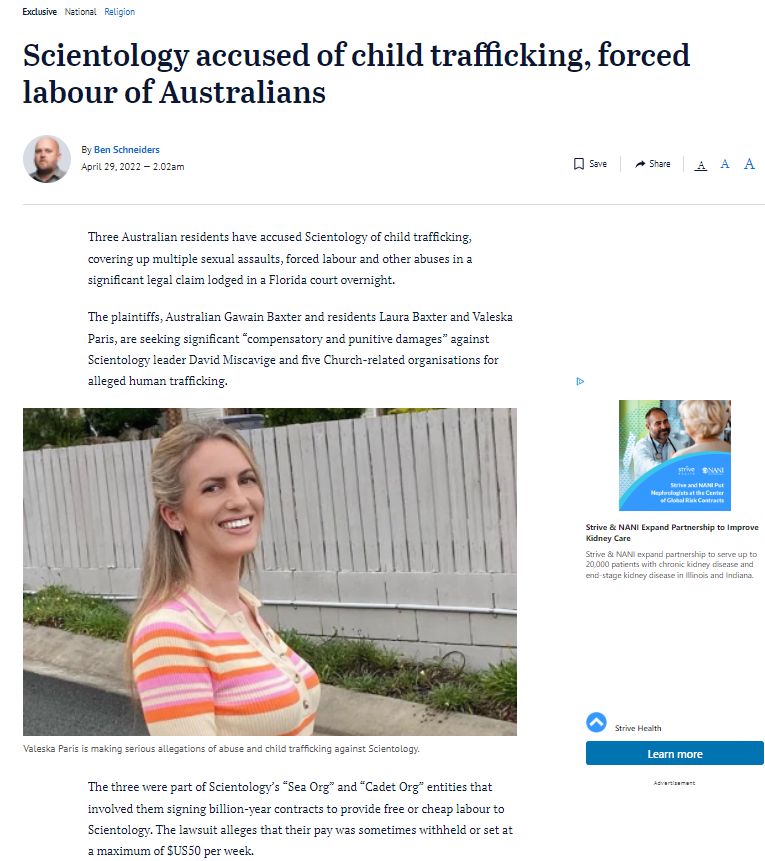 This is a copy of the filed Complaint
Three powerful law firms are bringing this case, all have experience in big, hard-fought litigation.
The complaint goes into extensive detail about what happened to these victims, and also how scientology is organized and operated. The allegations are horrendous — but are not new and similar things have been stated by many others. But this is the first time they have been laid out in a lawsuit.
There are some questions people have raised about whether this is going to meet the same fate as the Headleys' labor claims. This is a case about child labor/trafficking being pursued under very different laws than the Headley case. This is really a human trafficking case.
Questions have also been asked as to why the case was filed in Tampa when the Garcia case was forced into arbitration in this same venue and upheld on appeal to the 11th Circuit. I would say given the facts that are alleged and the defendants named in the lawsuit (David Miscavige, CSI, C of S FSO, IAS Administrations, C of S FSSO), there was not much choice. Had it been filed anywhere else, scientology would move to relocate it to the Middle District of Florida and likely succeed. So it avoids wasting the time and effort to go through that process. And frankly, sooner or later someone has to challenge the insanity of the arbitration bs, and I think this is a good case to do so. The plaintiffs are NOT asking for return of money (the contracts requiring arbitration are signed when you pay) and child trafficking is a pretty good factual scenario to make the case that an arbitration clause cannot shield against illegal and criminal behavior. Especially when it comes to children.
That many of the facts span back many years is going to have to be addressed as scientology will of course claim everything they did is irrelevant because it is barred by the statute of limitations.  I do not believe there should be ANY statute of limitations on crimes against children (which is why I am on the Board of Child USA fighting for SOL reform across the nation). But the law has not yet been changed in Florida. There are strong positions to be taken on this, Laura DeCrescenzo prevailed when scientology tried to have her case thrown out on statute of limitations grounds. I hope the plaintiff's lawyers can prevail here too. Morally, it's not even a close call.
I applaud these plaintiffs (Valeska Guider and Gawain and Lauren Baxter) for having the courage to stand up and be counted. It is easy to talk about fighting the scientology monster. It is another thing entirely to put yourself front and center in the line of fire.
This is the episode of Fair Game podcast where we talked with Valeska about her experiences.
One last thought, the timing is perfect.
Happy Birthday Captain Miscavige.
UPDATE:
Ben Shneiders has published a second piece: Inside "Freewinds," the Church of Scientology's ship of fear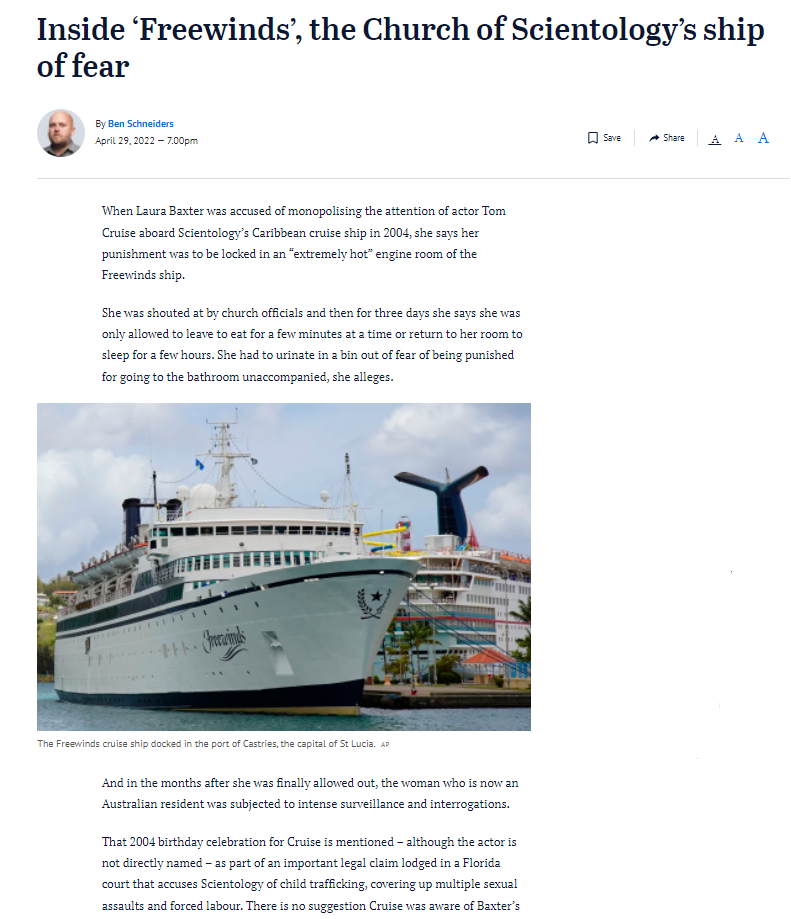 The Daily Beast