I recently posted about the sycophants gushing over Captain Miscavige.
Here is another one. In celebration of his birthday on Saturday, the brown-nosers at the Stand League sent out this tweet (not a word these days from Fast Eddie Parkin — he was so righteously right, but I guess not good enough in the end and now scrubbing dumpsters somewhere):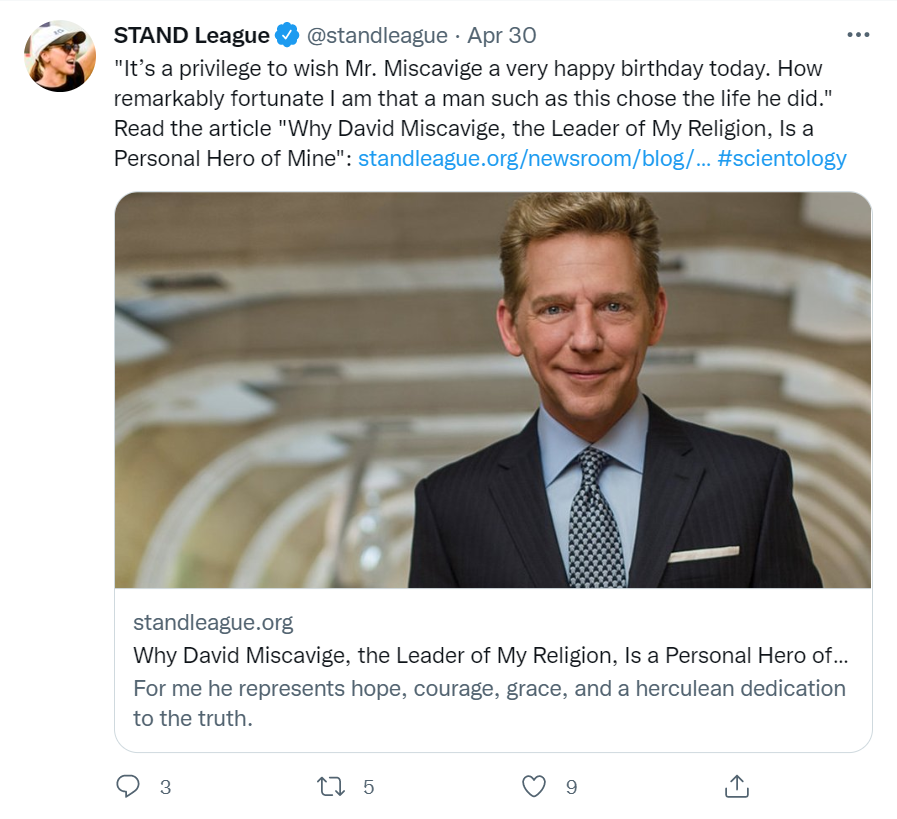 Obviously, as the celebrations for Ron's Birthday are on the decline in terms of importance and attendance, Captain Dave is taking Source's place. The official propaganda organ of scientology is tweeting out about how it's a "privilege" to wish him a happy birthday… Yuck. It's the sort of cringy subservience usually only seen with the cowed servants of despotic dictators.
Oh yeah….
Most likely Bari Berger has never worked with Captain Dave. At best she might have said "Hello, Sir" as he walked by.
She refers to a piece written by another of the Stand League regulars, Wil Seabrook.
It's even less likely that Wil Seabrook has ever even met Captain Miscavige, let alone interacted with him and certainly he has never WORKED with him.
He appears to have concocted this as an entry for the "Who can outdo themselves in suck up to David Miscavige zealotry."
He gets it rolling with "David Miscavige is a personal hero of mine." It goes downhill from there. The usual lie that "millions of people" have benefited from his work and the proof is the "thunderous applause and standing ovations" by the clubbed seals who attend his events (a thousand or two).
And the next step, he "made my journey up the Scientology Bridge possible." No longer is it "Ron" who did this in the world of scientology. As history has been rewritten by Miscavige, the Hubbard Bridge was hopelessly flawed and Captain Dave has straightened it all out for everyone:  "He has carved out steps where gaps not easily leapt across existed previously," and has made it "easily accessible to billions of people." All Hail Ron 2.0.
One of Wil's greatest "compliments" is that "He's the kind of larger-than-life person children's books are written about…" I think he lost the plot there. Children's books? Like Alice in Wonderland perhaps?
But it seems Wil's entry was the best they could do.
If anyone doubts that today Captain Miscavige has supplanted the Commodore, they merely need read the drivel from the official mouthpiece of scientology. Soon you will see "success stories" claiming it is a "privilege" to thanks Capt. Dave for their wins and how he has made all their "gains" possible. One thing scientologists are extremely good at — marching in lockstep to the drumbeat of "Command Intention."