A few days ago I did a posting about the fact that Wick Allcock was telling stories about Hubbard in Melbourne: Personal Stories About Ron — Sort Of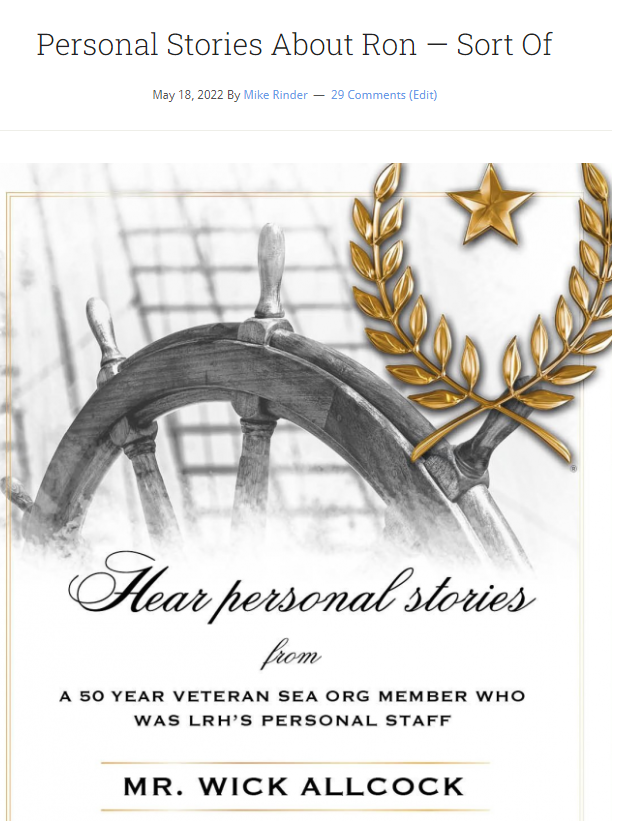 When I did the post, I was reminded by my old friend Karen De La Carriere about an earlier post at Tony Ortega's blog written by Rod Keller Sailing with L. Ron Hubbard
In that post, Rod recounted some of the history of Wick, prompted by another promotional piece where he was riffing on Ron in Tampa.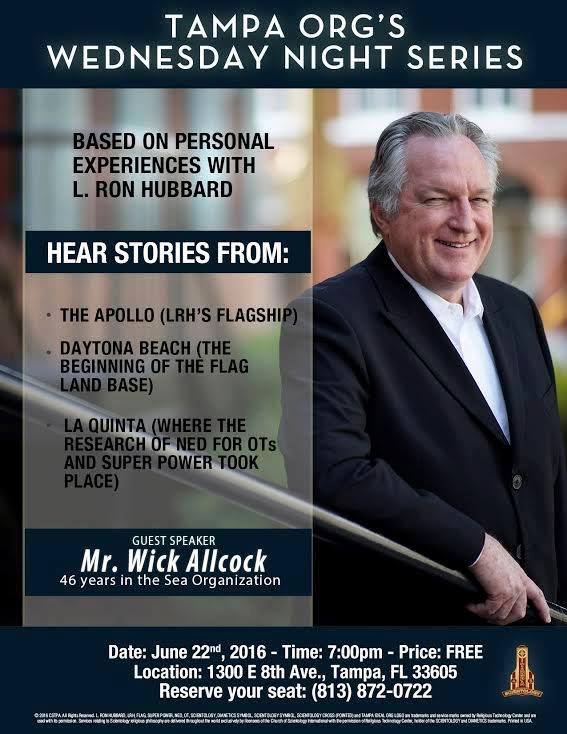 I wonder what he said about the "research" for NED for OT's? That Hubbard suffered another heart attack and David Mayo was called from Flag to audit him back to health? That in the sessions, Hubbard — the "preclear" — instructed Mayo "ask me this" and that the foundation of NOTs was a physical cure for Hubbard himself because neither Dianetics nor Clearing nor the OT levels had been able to accomplish making him a "well and happy human being." Or the "research" on "Super Power" which was of course a cure for failing staff (before the cure of KTL, LOC and FPRD) but was ultimately sold to the public as the great panacea thirty years later — though there was no more "research" from Ron after he moved on to Target Two in 1986?
Of course, Wick knows nothing about these things, he was tending to the motorcycles and cars as the D/Transport In Charge.
Also in that post was an incredible revelation: Wick (Warwick) Allcock, in 2014, while in the Sea Org at Flag, was arrested for shoplifting!
This is his mug shot from the PCSO.
He was found guilty and admitted into a pre-intervention program. This means if he pays the court fees and fines and meets other conditions, the charge is dismissed, which ultimately happened in 2015.
But this didn't apparently affect him being sent out as an ambassador for Ron in 2016. At least not until it appeared on The Underground Bunker.
He had not been sighted since. Perhaps he was shipped off to ANZO after that embarrassing exposure — he and his two older SO brothers (Richard "Wak" and John) came from New Zealand to the Apollo in the early 70's.
But now, many years later, he is making some sort of a comeback down under where they probably know nothing about his earlier brush with the law.
Really, the question one has to ask about this is not so much "Why would you possibly use someone who was arrested for shoplifting be the representative of Source?" but "How is it that a 40+ year veteran (in 2014) of the elite pinnacle of the most ethical group in this universe, who has lived a life of pure scientology, and has walked the Bridge to Total Freedom full time for many decades, sinks to the level of shoplifter?" or perhaps "…for many decades, be so damned dumb?" Of course, living on Sea Org wages for 40 years can create desperate circumstances, but if he wasn't so stupid he should have realized a better target for his sticky fingers would have been the canteen at Flag as if he had been caught they would NEVER have reported him to the PCSO.